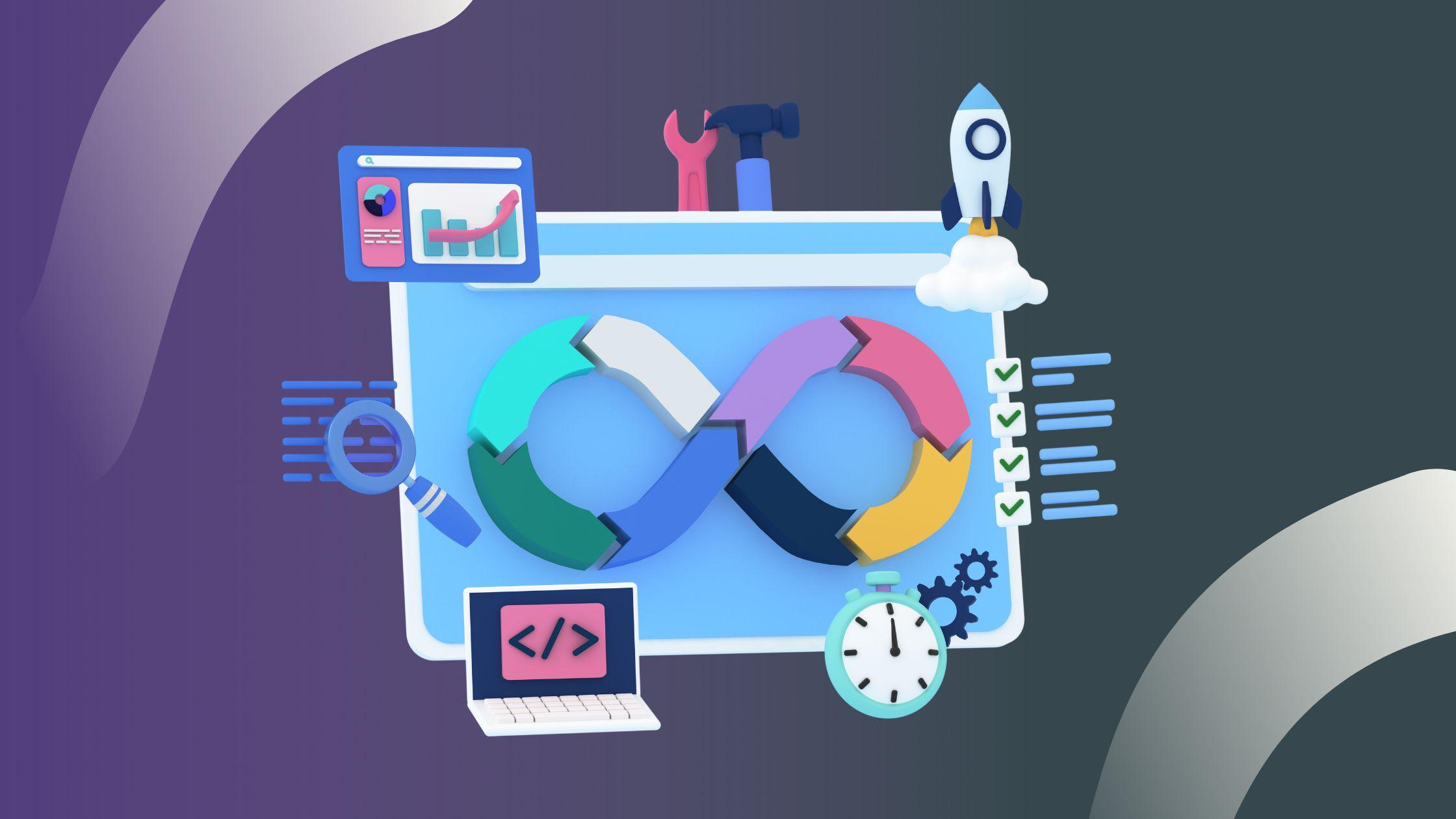 In today's ever-evolving business landscape, the imperative to digitally transform has never been more pressing. However, the journey towards embracing this change isn't solely about adopting cutting-edge technologies—it involves reshaping processes, fostering innovation, and nurturing a culture of continuous improvement. This is where the strategic alliance with DevOps partners comes into play. This blog explores DevOps partners' multifaceted role in expediting your digital transformation journey, with 10 key points to consider.
1. Innovate for Impact

DevOps partners bring a fresh perspective to the table, challenging your organization to rethink traditional approaches. By infusing innovative ideas and creative solutions, they inspire your team to think beyond the conventional. Their expertise in emerging technologies and trends allows you to explore new avenues for growth, accelerating your transformation journey with impactful changes.
DevOps partners infuse innovative ideas and creative solutions, inspiring teams to think beyond the conventional. Their expertise in emerging technologies opens new avenues for growth, propelling transformation with impactful changes.
Imagine brainstorming sessions where DevOps partners inject a burst of creativity, sparking discussions on how existing processes can be optimized. Their insights into industry trends and best practices can lead to revolutionary ideas that might have been overlooked. Through collaborative innovation workshops, your teams merge their domain expertise with the partner's forward-looking insights, resulting in solutions that not only address current challenges but also prepare your organization for future shifts.
Additionally, DevOps partners offer a unique vantage point gained from working with diverse clients and industries. This cross-pollination of ideas allows them to bring fresh solutions that may not be evident from an internal standpoint. Their innovative input acts as a catalyst, driving transformation initiatives that have a far-reaching impact.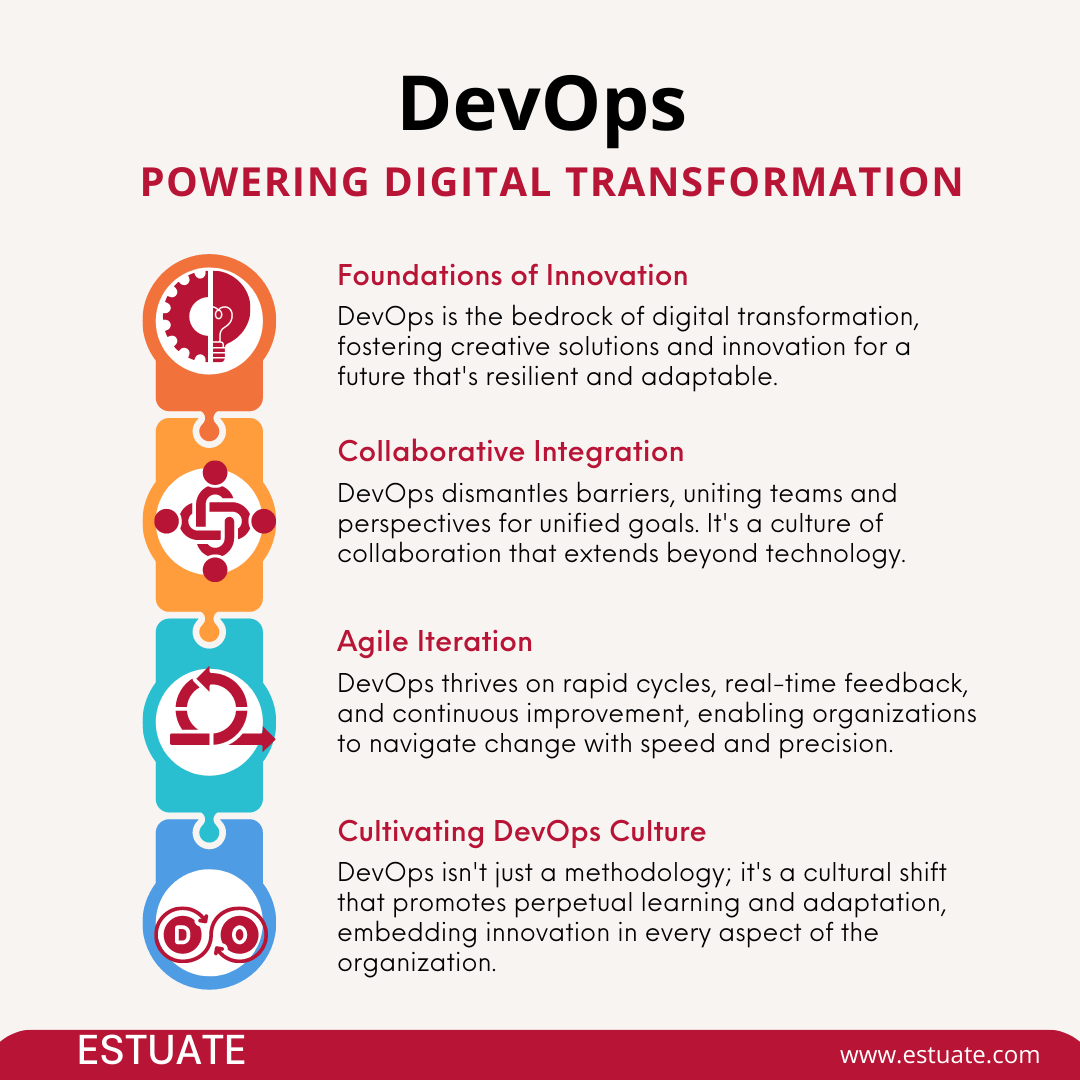 2. Cultivate a Culture of Collaboration

Successful transformation relies on collaboration across cross-functional teams. DevOps partners facilitate this cultural shift by fostering open communication, breaking down departmental silos, and promoting a united approach to achieving transformation goals. Their ability to bridge gaps and promote teamwork creates an environment where innovation thrives and ideas flow seamlessly.
DevOps partners aren't just implementers; they're cultivators of collaboration. They work as liaisons between development, operations, and other relevant teams, ensuring everyone is on the same page. Through regular meetings, joint workshops, and shared dashboards, they create a collaborative atmosphere where ideas are exchanged freely and expertise is pooled together.
This collaborative approach goes beyond project timelines. DevOps partners help establish cross-functional communities of practice, where team members from different departments can share insights and learn from each other. The result? A cultural shift where collaboration becomes ingrained in your organization's DNA, even after the transformation project concludes.
3. Expertise in Integrating Technologies

Navigating the integration of new technologies into existing systems can be complex and riddled with challenges. DevOps partners possess the technical expertise to seamlessly weave these components together, ensuring compatibility, minimizing disruptions, and optimizing the entire ecosystem.
Integrating new technologies often involves intricate technical considerations. DevOps partners provide an informed roadmap, breaking down the integration process into manageable steps. They assess your current infrastructure, identify potential bottlenecks, and design solutions that ensure a smooth transition.
Their expertise isn't limited to the technical aspects; they understand the impact of integration on your operations. DevOps partners collaborate with your teams to ensure that new technologies align with your workflows and support your business objectives. This holistic approach to integration guarantees that the transformation doesn't lead to operational hiccups.
4. Enabling Continuous Iteration

Digital transformation is a continuous journey, not a one-time event. DevOps partners establish robust CI/CD pipelines that allow for swift iterations. This enables you to deploy updates and enhancements rapidly while maintaining high quality standards. With shorter development cycles and constant feedback loops, your organization can respond promptly to changing market dynamics.
DevOps partners champion the philosophy of continuous improvement. They help you establish a culture where every iteration is an opportunity for enhancement. By setting up automated testing and deployment pipelines, they ensure that your updates are released seamlessly, minimizing downtime and reducing the risk of errors.
Their contribution goes beyond technical implementation. DevOps partners assist in setting up monitoring mechanisms that track the impact of each iteration. Through real-time feedback and performance metrics, you gain insights into the effectiveness of your changes, enabling data-driven decisions for future iterations.
5. Mitigating Risks Strategically

Transformation is accompanied by inherent risks, both technical and operational. DevOps partners leverage their experience to identify potential pitfalls and design comprehensive risk mitigation strategies. This proactive approach not only safeguards your transition against disruptions but also instill confidence in stakeholders by demonstrating a well-prepared, risk-aware stance.
DevOps partners act as risk navigators, charting a course through potential obstacles. They conduct thorough risk assessments, identifying vulnerabilities in your systems and processes. By understanding the potential points of failure, they design strategies that mitigate these risks before they can materialize.
Moreover, their experience in managing similar transformations equips them with a toolbox of strategies. DevOps partners know which risk mitigation techniques are most effective in specific contexts, ensuring that your transformation journey isn't marred by unforeseen setbacks.
6. Data-Driven Decision Making

Data is the backbone of successful digital transformation. DevOps partners leverage data analytics to establish measurable KPIs that align with your transformation objectives. By closely monitoring these indicators, you gain actionable insights that drive informed decision-making. This data-centric approach ensures that your transformation journey remains on track and delivers tangible outcomes.
DevOps partners leverage data analytics to establish measurable KPIs, providing actionable insights for informed decision-making. Customized dashboards and reports offer real-time visibility into your progress.
Data-driven decision-making is an integral part of DevOps partner engagements. They work with you to define KPIs that measure the success of your transformation initiatives. These KPIs can span efficiency improvements, customer satisfaction, cost savings, and more.
DevOps partners create robust reporting mechanisms that provide a clear visualization of your progress. Through Customized dashboards and reports, you get a real-time snapshot of how your transformation efforts are contributing to your overarching goals. This data empowers you to make strategic decisions based on empirical evidence, fostering transparency and accountability.
7. Adaptability to Evolving Needs

Transformation journeys are rarely linear; they often evolve in response to changing business dynamics. DevOps partners exhibit a high degree of adaptability, adjusting their strategies as your organization's needs evolve. Their ability to pivot ensures that your digital transformation remains aligned with your ever-changing objectives, future-proofing your initiatives.
The flexibility of DevOps partners is an asset in a landscape characterized by rapid change. As your business landscape shifts, they recalibrate their strategies to address emerging priorities. Whether it's a change in market demands or a shift in technology trends, DevOps partners adapt to ensure your transformation remains relevant.
Their adaptability isn't limited to reacting to changes; they also proactively suggest adjustments based on emerging opportunities. By staying informed about industry trends and innovations, they become a valuable source of insights that can guide your transformation strategy in new directions.
8. Seamless Change Management

People are at the heart of any transformation. DevOps partners play a vital role in guiding your teams through change management. By addressing concerns, training personnel on new technologies, and fostering a positive mindset towards innovation, they ensure that your workforce embraces transformation with enthusiasm and confidence.
Change can be met with resistance, but DevOps partners are skilled in change management. They conduct thorough assessments of your organization's readiness for transformation and develop strategies to manage resistance. Through communication plans and interactive training sessions, they prepare your teams for the changes ahead.
Their role goes beyond providing technical training; they focus on the "human" side of change. DevOps partners engage with employees, addressing their concerns and showcasing the benefits of the transformation. By creating a clear vision of the future state and demonstrating how it aligns with individual roles, they cultivate a sense of ownership and buy-in.
DevOps partners also ensure that your teams have the tools they need to succeed. Whether it's troubleshooting guides, knowledge bases, or ongoing support, they equip your workforce with the resources necessary to navigate the transformation process. This comprehensive approach fosters a culture of adaptability, making the change journey smoother for everyone.
9. Accelerated Time-to-Market

DevOps partnerships accelerate the development and deployment of new solutions. With streamlined processes and efficient collaboration, your time-to-market for products and services is significantly reduced. This rapid delivery capability gives you a competitive edge, enabling you to capitalize on market opportunities swiftly.
In a fast-paced digital landscape, swift time-to-market is a strategic advantage. DevOps partners streamline development cycles by automating manual tasks, reducing bottlenecks, and optimizing workflows. This agility allows your organization to respond to customer needs in real-time.
The continuous integration and delivery (CI/CD) pipelines set up by DevOps partners create a high-velocity release mechanism. By automating testing, deployment, and monitoring, they eliminate manual intervention and ensure that updates reach customers faster. This speed not only enhances customer satisfaction but also allows you to stay ahead of your competitors.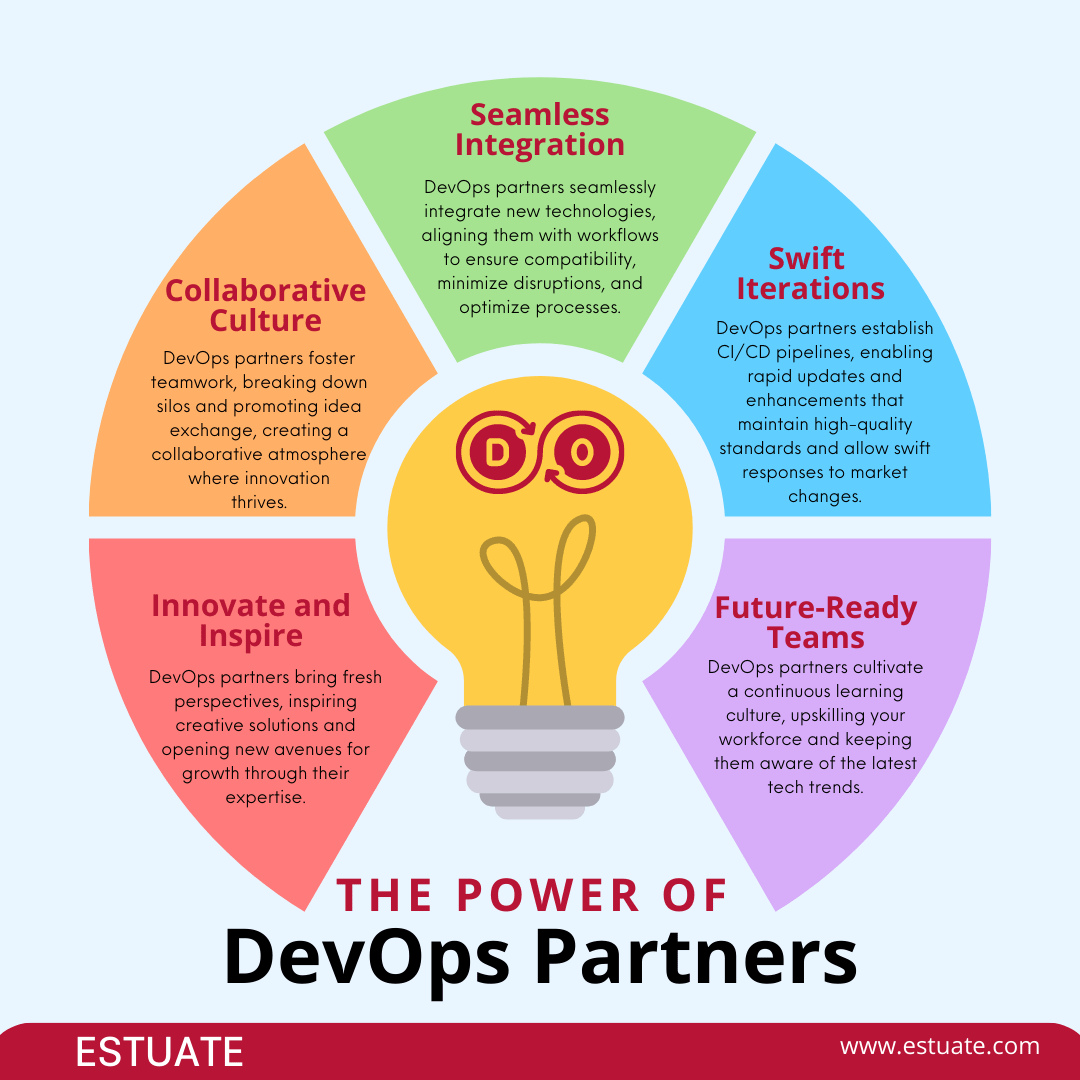 10. Future-Proofing Through Learning

DevOps partners don't just implement change; they empower your teams with knowledge. By imparting best practices, upskilling your workforce, and fostering a culture of continuous learning, they ensure your organization is equipped to navigate future challenges. This commitment to learning becomes a cornerstone of sustained transformation and growth.
The learning aspect of a DevOps partnership is a lasting legacy. By sharing best practices, DevOps partners elevate your team's skills, enabling them to take ownership of the technology landscape. Workshops, training sessions, and knowledge-sharing initiatives cultivate a culture of learning, where teams are encouraged to explore new tools and approaches.
DevOps partners also stay updated on the evolving technology landscape, ensuring that your teams are exposed to the latest trends and practices. This mutual learning process creates a dynamic feedback loop, where insights from the field are integrated into your organization's strategies, keeping you agile and relevant.
Conclusion: Embrace Transformation with DevOps Allies

Digital transformation is a profound journey that reshapes how businesses operate, innovate, and grow. DevOps partners like Estuate are your allies in this endeavor, embodying innovation, integration, and iteration. Our expertise propels your organization forward, not just as a technology-driven entity, but as a culture of continuous evolution. As you embrace the transformative wave, remember that with DevOps partners like Estuate, you're not just adapting to change—you're shaping the future of your enterprise.