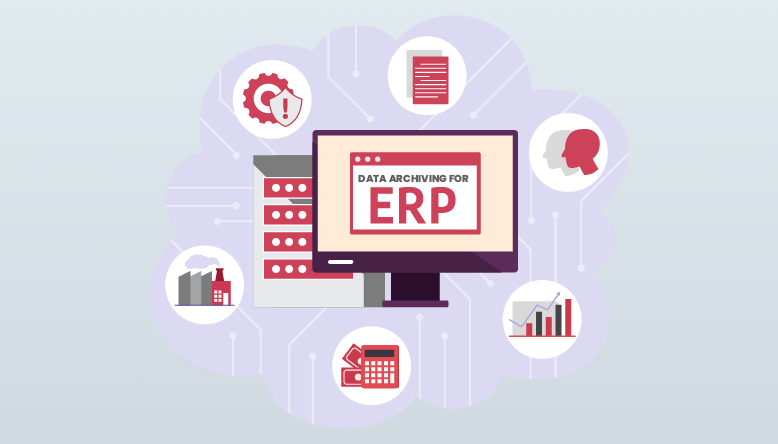 In today's tech-savvy world, Enterprise Resource Planning (ERP) systems have become the backbone of businesses. They help streamline operations, manage finances, inventory, and customer relationships. But, wait a second! Have you ever wondered why some ERP vendors seem to forget about data archiving? Stick around as we uncover the why and the what of this essential aspect of data management.
Why Data Archiving Matters
Picture this: You've been diligently using your Enterprise Resource Planning (ERP) system to manage your business operations, from tracking inventory to processing sales transactions. But as time goes by, your database starts to accumulate a mountain of old and rarely accessed data. Before you know it, your system begins to feel sluggish, response times slow down, and you find yourself grappling with storage constraints. It's like trying to navigate through a cluttered office with files piled up to the ceiling. Frustrating, right?
That's where data archiving swoops in to save the day! Imagine having a superhero-like solution that effortlessly moves all that inactive data to a separate storage space, freeing up valuable real estate in your database. With data archiving, your ERP system becomes a well-oiled machine, humming along smoothly without any hiccups. You'll notice an immediate boost in performance, as queries and transactions zip through the system with lightning speed.
But that's not all! Data archiving is like an invisible shield that protects you from compliance headaches and costly legal troubles. With regulations becoming increasingly stringent, ensuring the proper retention and management of your data is more important than ever. By archiving your data, you demonstrate your commitment to compliance, safeguarding sensitive information, and avoiding the hefty fines and reputational damage that non-compliance can bring. It's like having a legal advisor by your side, guiding you through the maze of regulations and keeping your business on the right side of the law.
Data archiving: the forgotten cornerstone of ERP systems. Don't overlook its vital role in optimizing performance, reducing costs, and ensuring compliance.
Why Some ERP Vendors Slip Up
You might be thinking, "Why would a vendor overlook something so important?" Well, there are a few reasons:
Lack of Awareness
Sometimes, vendors may focus too much on the core ERP features, forgetting about the long-term impact of not including data archiving. They might not fully grasp the benefits it brings to the table.
Complexity of Customization
Each business has its unique processes, making customization a must for ERP systems. Incorporating data archiving can be a bit complex, as it needs to cater to everyone's individual needs. So, vendors may lean towards generic features instead.
External Solutions Assumption
"They'll figure it out." That's what some vendors might think. They assume you'll turn to third-party solutions for data archiving. While external options exist, it's more seamless when the ERP system itself has built-in archiving capabilities.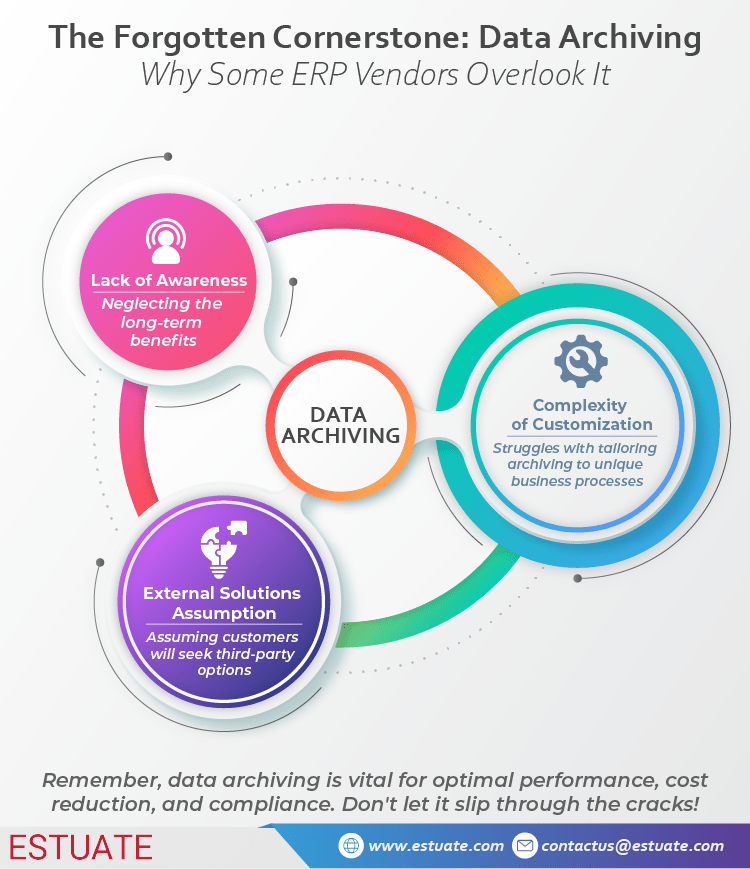 Consequences of Neglecting Data Archiving
If your ERP vendor misses the data archiving boat, you might encounter some not-so-fun issues:
Slowpoke Performance

As your database grows, performance can take a hit. Sluggish response times and increased system complexity could be a daily frustration.
Storage Nightmare
Hey, storage isn't cheap! Keeping heaps of unused data in your operational database might lead to skyrocketing storage costs. Not the best way to allocate your budget.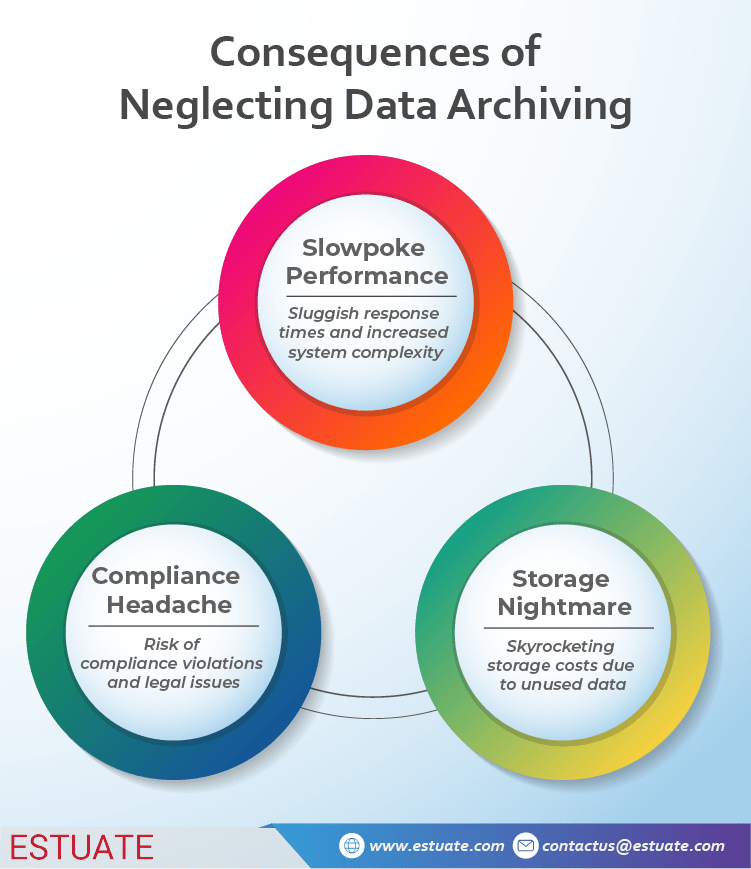 Compliance Headache
If your business operates in a regulated industry, data retention is a big deal. Neglecting data archiving can put you at risk of compliance violations and the legal woes that follow.
What You Can Do
Don't worry; there are steps you can take to handle this situation like a pro:
Be a Savvy Shopper
When looking for an ERP system, keep data management capabilities in mind. Ask vendors about their data archiving features, automation possibilities, and how they seamlessly integrate it all.
Explore External Options
If your ERP vendor lacks data archiving features, don't fret! External solutions can come to the rescue. Just ensure they play nice with your ERP system.
Be Proactive
Take charge of your data management strategy! Define archiving policies and make sure they align with your business needs and regulatory requirements. Regularly review and optimize them to stay ahead of the game.
Data archiving is your secret weapon to ERP success!
Alright, you savvy business owner! Now you know why data archiving can sometimes slip the minds of ERP vendors. But, fear not! Armed with this knowledge, you can choose an ERP system that's data-archiving-ready or find the perfect external solution. Take control of your data, boost performance, save on storage costs, and breeze through compliance like a pro. Data archiving is your secret weapon to ERP success!
Estuate is the most trusted data archival partner of IBM InfoSphere Optim
Estuate is a trusted partner in data archiving, especially with IBM InfoSphere Optim solutions. With deep experience and over 450+ successful implementations, Estuate provides efficient data management and access through Archive Viewer. This solution offers advanced search and retrieval functionalities, enhancing productivity and informed decision-making based on historical data.
Remember, data archiving is essential for ERP success. Choose a data-archiving-ready ERP system or find the right external solution to take control of your data, boost performance, save on storage costs, and effortlessly comply with regulations. Estuate is here to help you on your path to success.