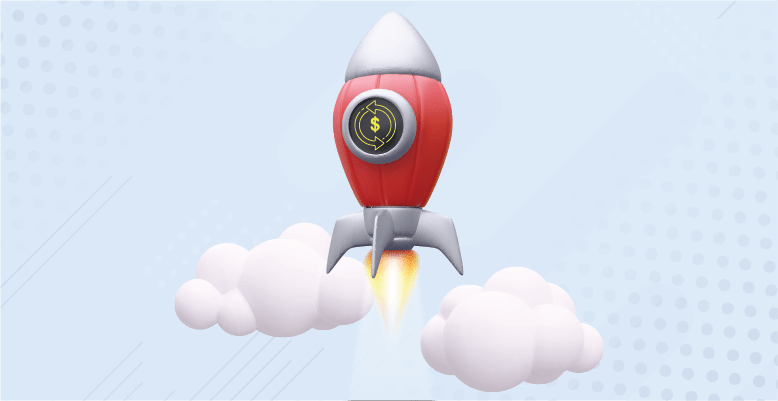 The art of selling subscription services online has come a long way. Consumers in today's subscription economy are more aware than ever before. That's in part because millennials make up a large portion of the consumer-facing market. Being tech-savvy and financially smart, they prefer the convenience of use over ownership any day. So if you want to spur your recurring revenue business growth, understanding today's consumer psyche is paramount. And say, you are running your subscription business through a platform like Zuora, make sure to plug in a reliable Zuora billing and revenue partner. Brownie points if this Zuora partner is compliant with PCI-DSS.
The subscription economy is currently worth $275bn USD. Over the past decade, the subscription business model has shown 5-8x faster growth vis-à-vis the traditional revenue models. No wonder they say that the subscription economy is on the rise. But this also means that the timing is conducive to boost your recurring revenue business growth. The key lies in identifying the channels right.
What are the best tips for selling subscriptions online?
Make your customers see value
Make your pricing flexible
Make friends with freemiums
Make smart use of social media
Don't make it too salesy
Don't forget about buyer experience
Don't put off customer service
Like we said at the very onset, the new-age customer is smart. With hordes of options all around offering a similar bundle of conveniences, the interest span of the average customer is dangerously short today. From clicking to reordering, a smooth experience is non-negotiable for today's buyer experience. This necessitates a smooth quote-to-cash process for you to grow at scale. Here is what you can do:
Leverage a robust subscription platform handler (if you use Zuora subscription solutions, then it must be a Zuora billing and revenue partner company)
Ensure the compliance-fitment of the Zuora partner (a PCI-DSS compliant Zuora partner is deemed best)
The world of throttling competition in subscription commerce may also lure you to enter the infamous 'race to the bottom'. You start lowering your prices to attract new buyers, and at some point, you will have to start compromising on quality. But, no recurring revenue businesses can see growth in the face of such qualitative and quantitative losses. The way out? Apply a few tricks to the way you sell subscription services online. Here is how you can get started:
1. Make the customers see value in your subscription packages

Do you know how your customers perceive your services? Do you know their exact pain points? Creating and analyzing the ideal buyer persona can help you with the answers. With soaring subscription commerce, consumers are becoming increasingly subscription-curious. They try and test offerings from various subscription providers and cancel those that fail to thrill. So, analyze what extra value you can provide that your competitors do not – and add the same to your bundle.
When it comes to selling subscriptions and signing-up customers online, the wind also blows in the direction of value bundling. Create value-for-money combinations of complementary products and services using your existing offerings.
2. Make pricing flexible for selling subscriptions online
Consumers today want flexible pricing options, custom payment methods, multiple billing frequencies, and everything that suits their convenience. Especially to satisfy the needs of millennials and bridge millennials, offer different price plans and convenient billing cycles. A sturdy Zuora billing and revenue partner company can help scale your recurring revenue business growth. A PCI-DSS compliant Zuora partner will further ensure the stringent safety of your credit card data.
3. Make friends with freemiums for recurring revenue

Who doesn't like free stuff? To put the recurring in your recurring revenue business, you first need to build a solid foundation for why your customers should stick with you. Pull them in first by offering a freemium strategy. If they see the value you offer as personal and unique, they will most likely convert. Almost 80% of retail subscribers who converted during the early pandemic period were lured by the availability of the first-free-trial option.
Recently, the Financial Times conducted an experiment to test the power of freemiums. It reduced the number of free articles for non-subscribers from 3 to 0. Website visits dropped by 30% and there was a marked reduction in new subscribers. So, regardless of the power of your brand and the potential benefits, selling subscription services online today needs freemiums to be a regular feature.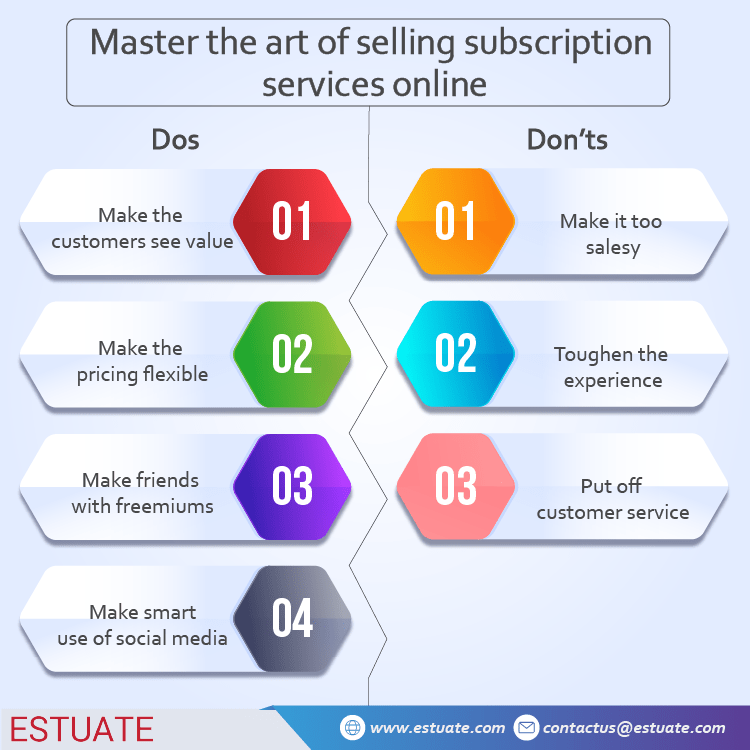 The top tips for increasing your recurring revenue subscriber base
4. Make smart and skillful use of social media platforms

The world today lives and breathes social media. With competition intensifying, it's no longer enough to just have a profile on digital channels; you need to gain a foothold there. Though the conversion rate from social media may not be impressive, you can use this marketing channel to draw your target market closer. Create awareness and engage with your audience to keep your offerings at the top of the consumers' mind. Be it informational blog posts or updates about your subscription packages, staying active on social media is synonymous with staying relevant today. Recurring revenue business growth can get truly recurring if social media is utilized skillfully.
5. Sell subscriptions but don't make it too salesy

Everyone is selling something today. Ask yourself: how do you stand out? Shifting from a transactional mindset to a value-driven mindset needs a culture change altogether. It may sound confusing, but when selling subscription services online, do not focus entirely on selling! Create value instead – be it in terms of customer experience or customized offerings or something else you see fit. This will not only help you acquire new subscribers but also retain the existing ones for the long term.
Citing another example pertaining to the Financial Times: with the shift of focus from mainstream news from print to digital media, FT needed to improve its value proposition for its user base. The company tied up with a European media organization to bring in more customer-centricity. This saw a 29% rise in subscriber base with a 6-month timeline.
6. Sell subscriptions but don't forget about buyer experience

A seamless buying experience will always be an unmatched quality. From easy-to-use UIs to guest checkout options, always look for adding that extra convenience for your users. Turn these users into subscribers by empowering them with the option to start, restart, pause, and even edit their subscription purchases.
According to a SUBTA study, the modern subscriber is highly focused on getting exclusive access. People sign up when they find high-quality content that is not available anywhere else. For growing your recurring revenue business, revaluate your present offerings and see if such capabilities can be added.
7. Sell subscription but don't put off customer service

As competition soars in the market, a tiny bad experience can be detrimental to your recurring revenue business growth. Always communicate your product/service-related updates, post detailed guarantee and cancelation policies, and make your privacy policy very clear. Train your CRM team to go beyond the minimum and build relationships with the clients. Selling subscriptions online today demands emotional engagement. It increases the lifetime value (LTV) of your products/services.
Understandably, the subscription economy is expanding rapidly with a rise in both seller and buyer bases. Having a unique product/service bundle is the bare minimum today for spurring your recurring revenue business growth. You must ensure the entire experience you hand out – from the first site visit to the repeat order fulfillment – everything is squeaky clean. Platforms like Zuora can be the single touchpoint for your order-to-revenue process.
Zuora is the world's leading subscription management platform
Reinvent your quote-to-cash and revenue management with the world's most reliable subscription management platform. Leverage Zuora's SaaS solutions for your recurring revenue business growth. The subscription economy evangelist has been simplifying subscription businesses worldwide since 2007. Join forces with a Zuora billing and revenue company to ace the art of selling subscription services online.
Estuate is a PCI-DSS compliant Zuora billing and revenue partner
We at Estuate host a dedicated Zuora center of excellence. We are proud to be the most trusted Zuora billing and revenue partner company. We have the following Zuora capabilities in our ambit:
Advisory Services:We help you transform your business – from strategy consulting to implementation – and provide expert guidance with tangible business benefits.
Implementation and integration services:Our experts help businesses connect their systems to the Zuora ecosystem and transition from traditional systems to subscription models.
Billing Revenue and operations:Our certified consultants have deep industry insight and proven experience with cloud billing solutions with a long track record of delivering Zuora solutions.

With over 400 Zuora implementations and extensive Zuora billing and revenue experience, we are successful in maintaining a CSAT level of 9.7 over the last 9+ years.
Watch: seamless subscription management with our Quote-to-Cash solutions
Do you know that we are also the first Zuora ecosystem partner to achieve the PCI-DSS certification? This accreditation underscores our already stringent security standards for protecting the customers' credit card data.
To learn more about us, please visit our Zuora page here
What are you doing to make your subscription business model stand out? Do you think a subscription platform enabler can help? Let us know on LinkedIn, Twitter, or Facebook. We would love to hear from you!