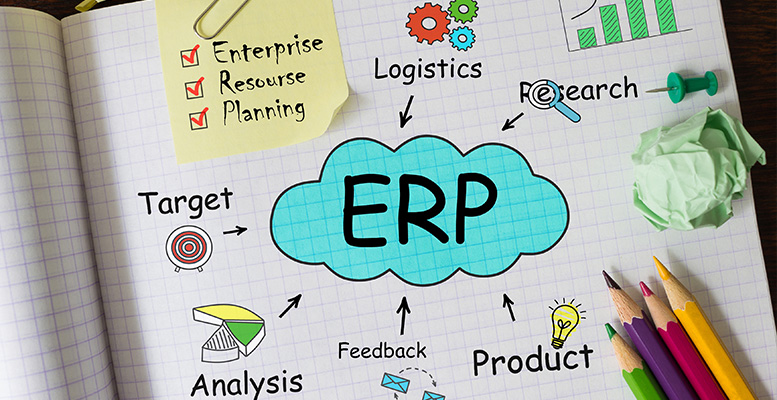 Selecting the right ERP system is critical for business growth. This article explains why growing companies should adopt Cloud-based ERP solutions.
Effective planning, management and utilization of resources is essential for successful business operations. It allows enterprises to allocate the right resources in the right areas and execute business projects efficiently. The need for a sophisticated resource management system led to the origin of ERP in the 1990s. ERP, or Enterprise Resource Planning is a software designed to manage and optimize critical business processes in a unified manner.
A robust ERP system streamlines complex business processes, boosts efficiencies, offers greater visibility of information and enables business growth. A typical ERP focuses on core business activities such as human resource, finance, accounting, supply chain, inventory and customer relationship management. Most ERP vendors also offer custom-made software with industry and business specific features.
Traditionally an ERP software is housed at a company's premises on its own servers and maintained by the company's IT staff. However there are some key challenges of using an On Premise ERP. It calls for constant upgrades, hardware maintenance, a dedicated IT team and obviously additional operating costs. It might not be feasible for all businesses, especially small and growing enterprises.
However, with advancements in technology, the concept of ERP evolved and gave rise to Cloud ERP. It allows businesses to host an ERP software on a Cloud platform without having to invest in any hardware or data center. Here are the top four reasons why adopting Cloud ERP is a better option for growing enterprises in today's dynamic business world.
Affordable and easy implementation
In contrast with the traditional on premise ERP systems, Cloud ERP is relatively easy to implement and cost effective. It is particularly favorable for small enterprises since it cuts down the initial capital investment and hardware installation costs. Cloud ERP is usually billed on a per user/per month subscription basis.
Also, since it doesn't require an in-house data center or maintenance team, implementation is rapid and simple. All the data is stored, maintained and accessed over the Cloud, hosted by a third party vendor. It allows small and medium sized businesses to utilize the benefits of an ERP system without having to stretch their budgets.
Flexibility and integration
Agility is a prerequisite for business growth today. Cloud based ERP programs offer improved flexibility, accessibility and easy integration, a must to support dynamic business models and diverse requirements. Cloud ERP systems widen the scope for implementing tailor-made features to meet specific demands. They're also compatible and easily integrate with new age technologies, applications, servers and systems.
Applications on a Cloud ERP work in an open environment with easy accessibility. It allows employees to access information anytime, anywhere using any device with a secure internet connection. The agile features of a Cloud ERP make it a scalable option for mid-sized businesses.
Enhanced security
As business operations become more and more data intensive, ensuring data privacy is an absolute essential. Recent cybersecurity attacks have increased the challenges of maintaining data security across on premise ERP centers, since they may not be adept at responding to cybersecurity protocols.
Cloud ERPs on the other hand, offer a higher degree of information safety and ensure secure encryptions. Most Cloud ERP solutions meet comply with standard data privacy regulations and follow predefined procedures to forecast risks and respond to malicious activities.
Improved business performance
Compared to on premise ERP systems, Cloud ERP solutions are faster and more scalable. It helps businesses streamline performance across all key areas of operations, including efficient resource planning and allocation. Cloud ERP systems run on strict SLAs and standard procedures, leading to fewer downtimes and increased speed.
New patches and upgrades are automatically updated on the Cloud, keeping the system up to date and enhancing productivity. Also, since they are hosted, maintained and secured by experts, businesses can focus better on core competencies and improve overall business performance.
Cloud ERP solutions are not just cost effective and secure, they're faster, easy to use and highly agile. It is gradually taking over legacy ERP systems and is being preferred by most enterprises. If you too have been contemplating on the idea of adopting a modern and scalable ERP solution, now you know why Cloud ERP is your ideal option!