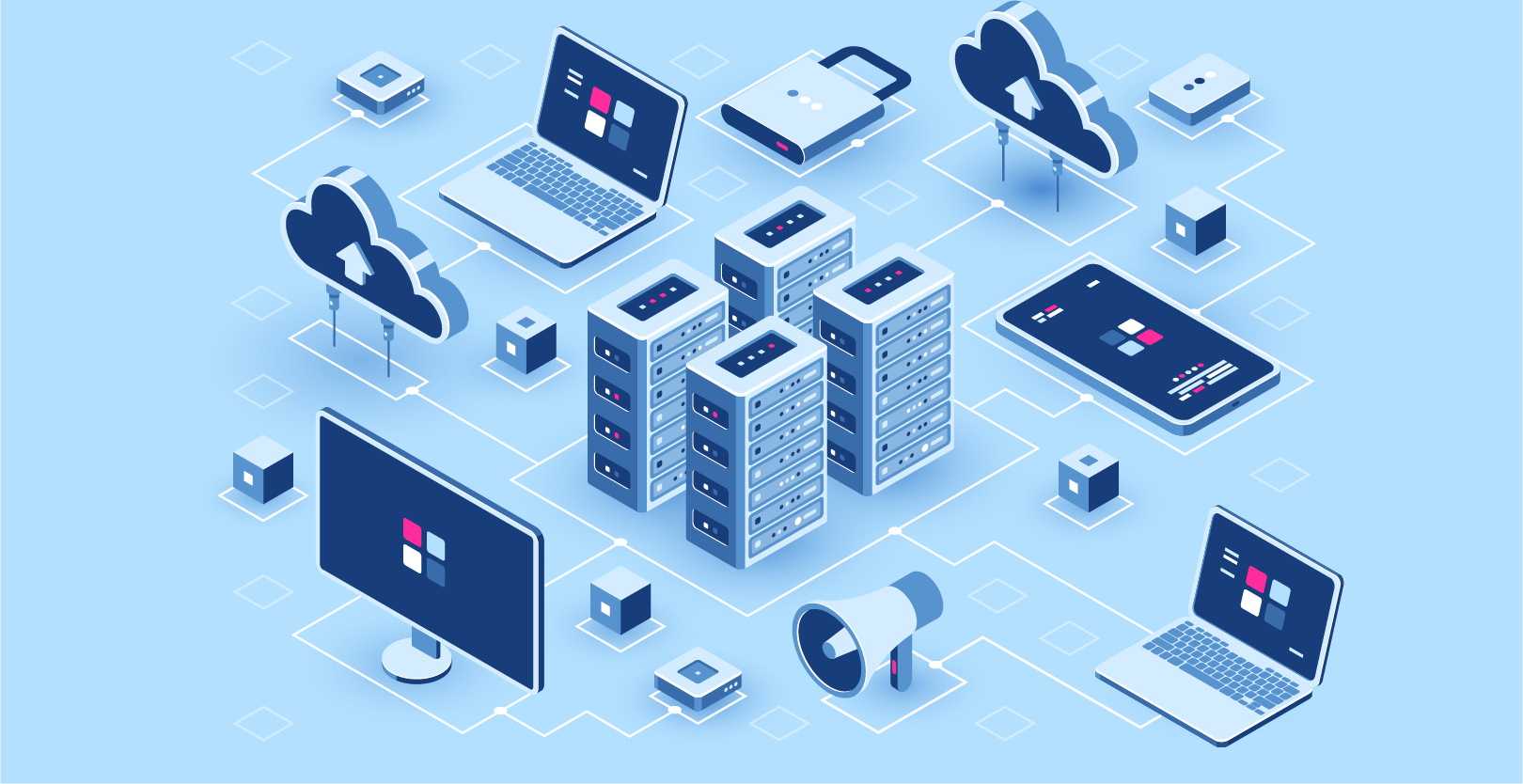 Today's IT lives in the cloud. With its range of diverse, on-demand services, the cloud is modernizing businesses remarkably. Though 'cloud enablement' sounds engaging at present, the concept of cloud computing actually dates back to the 1960s when Remote Job Entry (RJE) was first practiced. From then on, the cloud has covered wide terrains to account for modern application cloud enablement and beyond. It even snowballed with time to create modern digital transformation solutions.
According to recent research, cybercrime damage is expected to reach $8 trillion USD by 2023. Is your organization part of this pool or does it stand aside?
Ever since cloud computing has bloomed and thrived in the tech world and become a huge game changer. Today, businesses of all sizes are adopting the cloud either partially or fully. But why is cloud enablement becoming so popular? What business benefits does it offer; and most importantly, do you need it yet?
Why should businesses opt for cloud computing?
Stores voluminous data
Improves productivity
Ensures security
Reduces costs
Stores voluminous data

As data grows exponentially, you need a platform with massive storage capabilities. Cloud storage solves this problem without you having to worry about developing a data center or maintaining it.
Improves productivity

Since cloud computing is all about a third party offering virtualization solutions, it saves a great deal of time and effort involved in IT maintenance. A cloud enablement strategy allows you to concentrate on your core operations.
Ensures security

One of the key drawbacks of mainframe data centers and applications is their vulnerability to cybersecurity incidents. Cloud computing strengthens information security and minimizes your cyber risk by keeping your data safe in a virtual, virus-free environment.
Reduces costs

A major benefit of a cloud enablement strategy is its cost-effectiveness. As everything is hosted over the internet by a third party, you can save huge sums of money, otherwise spent on hardware equipment, software installation, and maintenance.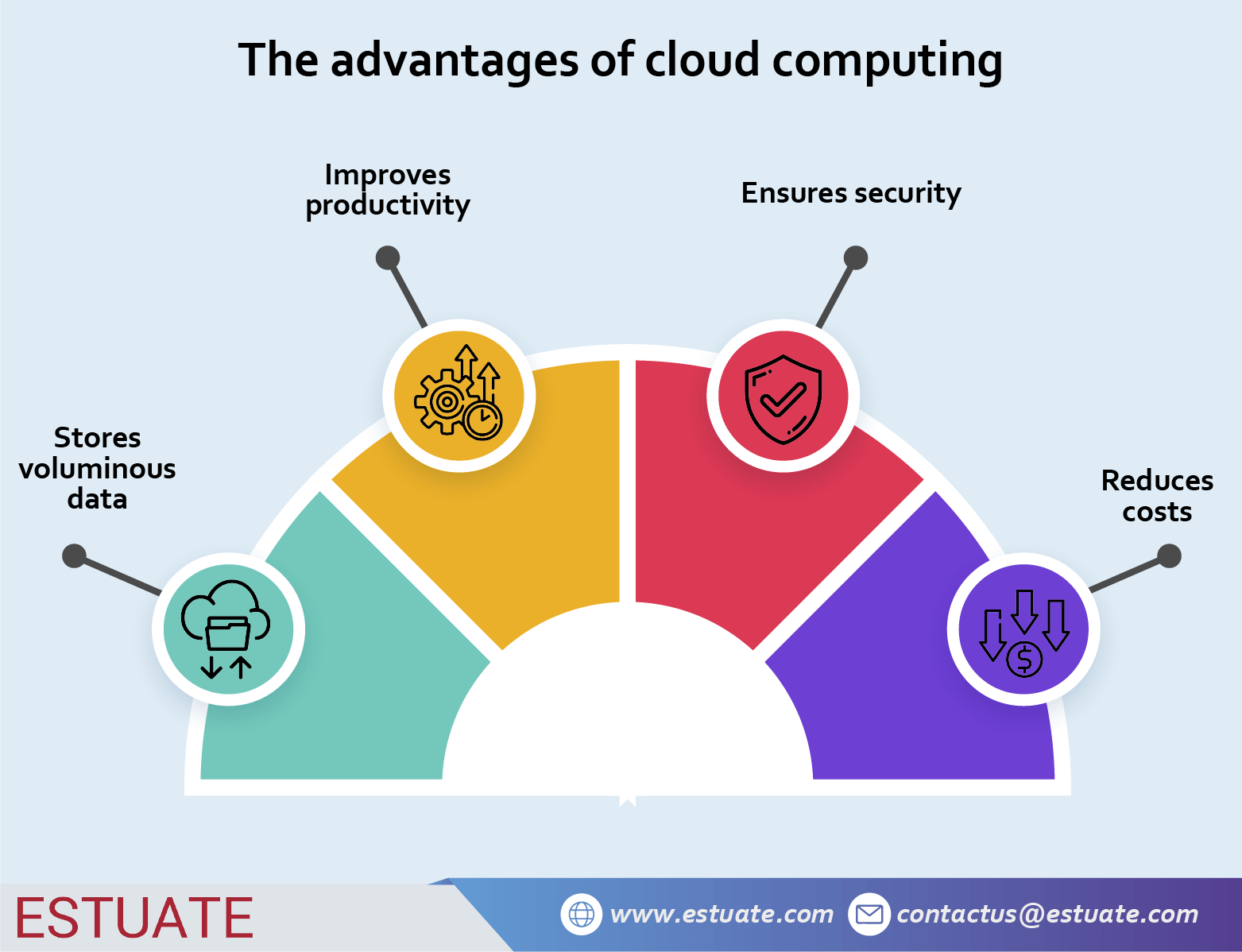 With the right cloud enablement strategy, you bulk up on efficiency
Because of its multiple benefits, diverse offerings and agile features, businesses are switching from traditional systems and adopting the cloud to optimize operations. However, cloud enablement is a huge business change and should be carried out with the right strategy and implementation method.
What does a cloud enablement strategy involve?
Here is a five-step strategy for successful cloud migration:
Determine your cloud needs
Plan your cloud environment
Select your cloud partner
Execute the migration
Monitor and maintain
Step 1: Determine your cloud needs

The first step to successful cloud enablement is to understand your readiness to adapt to the cloud and determine the areas or applications that need to be migrated. This would include a thorough assessment of your business operations, current applications and IT infrastructure, and a SWOT analysis of how the cloud can help optimize your business processes. It will help you build a clear roadmap for cloud migration, allocate resources appropriately, and implement the cloud effectively.
Businesses have been aware of cloud enablement's vantage point for quite some time now.
Step 2: Plan your cloud environment

The world of cloud is vast, and selecting the ideal solution or mix of solutions is critical. Cloud services are classified on the basis of location as public, private, hybrid, or community cloud. Similarly, based on the service being offered, cloud is categorized into Infrastructure as a Service (Iaas), Platform as a Service (Paas), Software as a Service (Saas), cloud database, cloud ERP, etc. The nature of your operations and your business assessment will help you determine the right mix of cloud solutions to go for.
Step 3: Select your cloud partner

Once you're all set to move to cloud, you need the right cloud service provider to help you migrate. With numerous options available in the market, it could be overwhelming and tricky to select the right cloud implementation partner. The most suitable cloud service provider will have the right expertise, technical know-how, implementation experience and the exact mix of cloud-based solutions you're looking for.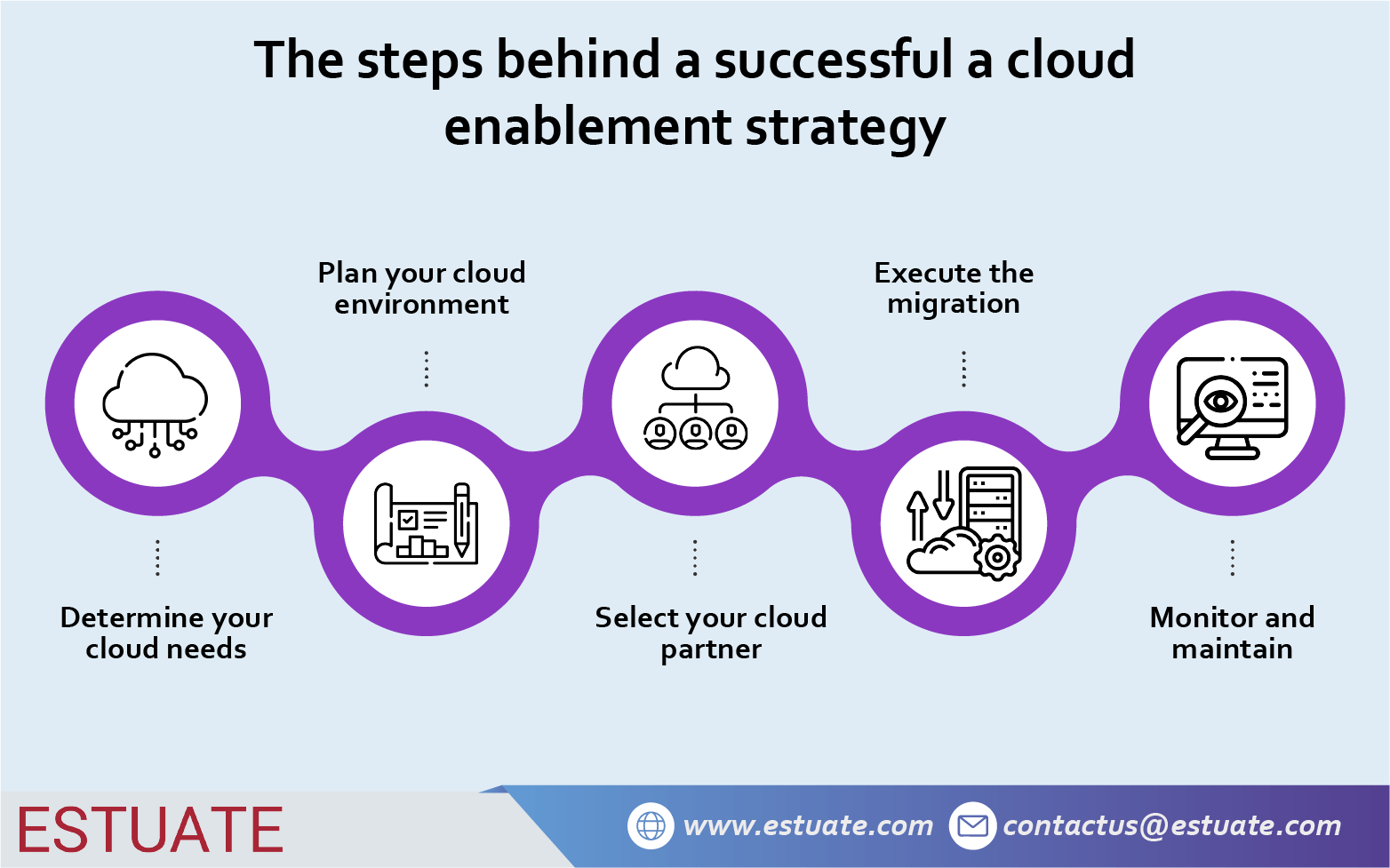 A successful cloud enablement strategy needs smart planning
Step 4: Execute the migration

Now comes the real deal, the execution. Your cloud partner will offer you a range of solutions, design an implementation roadmap, and allocate resources accordingly. Before migrating an application or data center to cloud, create a reliable backup of all the data that exists within. The next step is to create the cloud environment with the right tools, connections, and networks. Once you have successfully set up the cloud, the next step is to migrate your data or application to the cloud without hampering regular business activities. Lastly, test the cloud performance and ensure that everything works as expected.
Step 5: Monitor and maintain

Monitoring and maintaining a cloud-based platform is as important as implementing it successfully. You would have to train your workforce to get accustomed to the new platform and manage the change effectively. It is also important that you keep a track of your cloud environment, fix any issues, and maintain the networks throughout to ensure smooth performance.
Challenges in the way of tech transformations are common. And, cloud enablement is no different. An adept cloud partner can help navigate you through these challenges.
Watch: How to neutralize vulnerabilities in a mixed cloud on-premise environment

Cloud adoption and transformation made easy by Estuate
We have end-to-end cloud enablement solutions to meet your specific IT needs and business goals.
Cloud computing is the future of modern-day enterprises. It is disrupting the world of IT with immense speed, storage, and computing capabilities. If you too are considering migrating to cloud, we are right here to help!