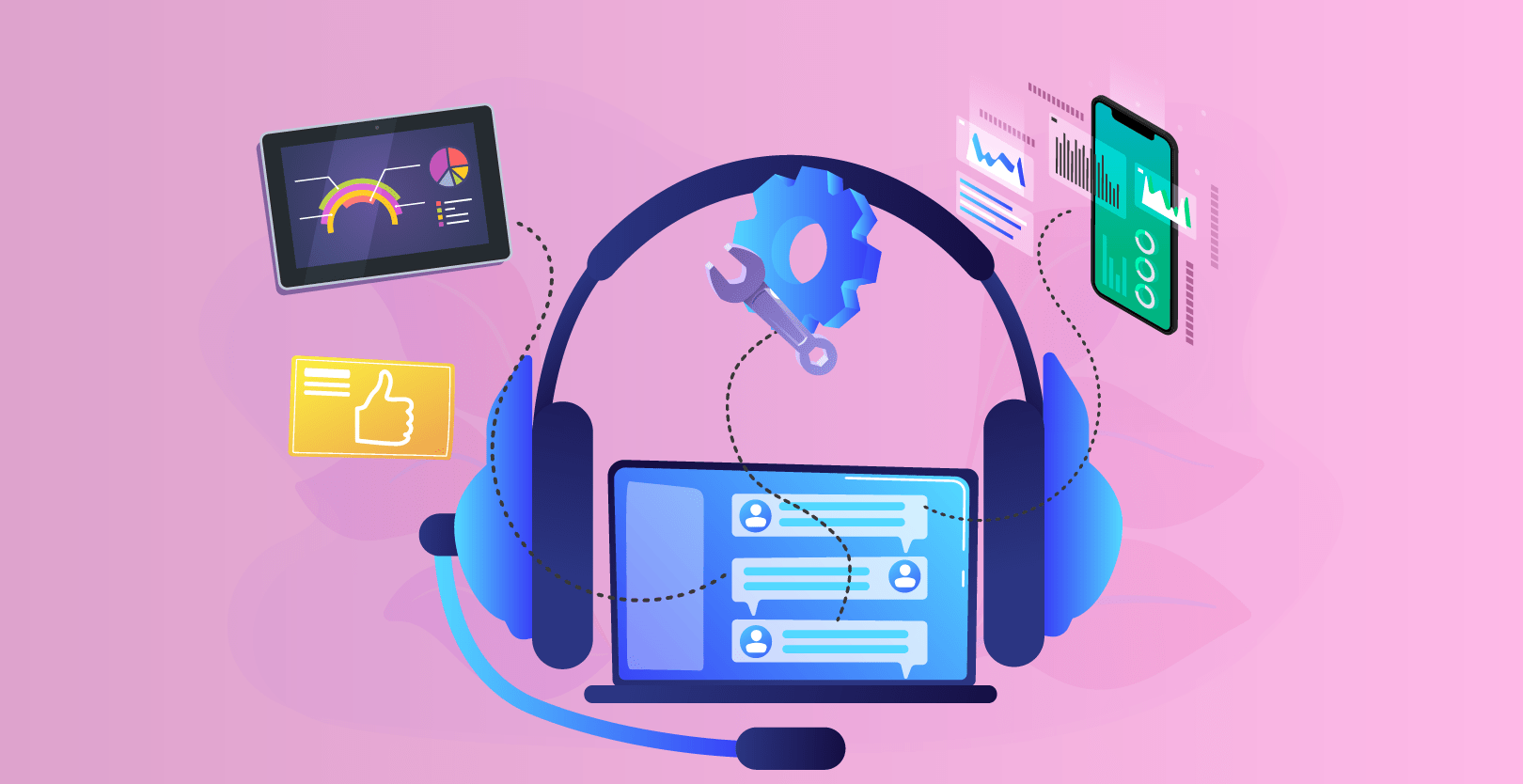 There are a million reasons why the term 'help desk' begins with 'help'. A help desk software solution is to today what the wheel was to the Sumerians – a one-stop solution to a plethora of pain points. Many consider helpdesk ticketing tools to be the panacea for modern-day customer centricity. For today's customers, turbulence-free service is non-negotiable. To such ends, incident management needs to be flexible, friendly, and real-time. So in order to match, businesses need stellar ticketing tools in place. Fortunately, a robust customer experience provider can make life 1000x easier for you by plugging in the right help desk tool. And well, how to achieve that? A Zendesk support partner might just be what you are looking for.
What is a help desk software solution?
A help desk software is a solution/tool that businesses use to optimize customer experience. The utility spectrum is broad – from managing support requests to tracking performance to bringing issues to resolution. Such tools singlehandedly streamline your enterprise IT, customer service, and a host of other business-critical units. In functional terms, these customer-facing ticketing software expedites the process of 'organize-manage-respond-repeat'. Your business teams become happy and your clients happier, as a result. Goes without saying, a customer service software is essential for modern-day businesses to survive and thrive.
Did you know, 60% of high-productivity customer service teams count on an IT help desk solution to ensure smooth-sailing customer service?
However, customer satisfaction does depend a lot on the choice of your help desk tool. Smart businesses go for customer experience providers such as Zendesk for ensuring robust CRM. It includes a stellar ticketing software as a core offering. But, even smarter businesses put efficiency in the mix by shaking hands with a credible Zendesk support partner. It ensures to onboard all the latest advancements in help-desk technology for you.
Which help desk software features will trend in 2023?
Here are the help desk software features that will shine in 2023 and beyond.
Multi-channel ticketing
Transparent incident resolution
Self-help first and rich in data
Automated notification mechanism
Integrability with other software
Service Level Agreements (SLAs) customization
Reporting and dashboarding
Compliance with security standards
1. Multi-channel ticketing

The more channels you are present on, the easier it is for you to reach your customers. This includes emails, phone, social media platforms, live chats, and more. With auto-trigger messages set for each channel (matched to the end user, platform, and the right mix of empathy), this strategy can reduce the first user-touchpoint time to as less as 60 seconds. Your customers do not have to raise a query and wait for ages to be acknowledged. As a result, the overall ticket turnaround time becomes significantly faster. Manual processes like emails/phone calls, on the other hand, involve a lot of cost, time, and human resources.
A streamlined multi-channel presence also means that your customers do not have to raise the same concern more than once. A help desk software tool syncs all your data in an exhaustive dashboard for your team's quick reference and action. Onboarding a customer experience provider can be a business-smart choice in this regard.
2. Transparent incident resolution
A help desk ticketing software brings customer and customer success under one roof – in real time. It helps you track, categorize, and assign tickets to the appropriate agents via its automatic ticket categorizing feature. The path forward is transparent to the customers as well. They are able to track the status of their requests from start to finish, all the way to resolution. They have all interactions with the customer service representative at their fingertips and can refer to them at any time. Automation reduces turnaround time for them; they receive empathetic and professional responses. In a nutshell, they are empowered to be on top of the requests they raise. And, this improves customer satisfaction. So all in all, despite hundreds of customers, an IT help desk software can make the experience personalized for each of them.
The right Zendesk support partner can help you upgrade and personalize your incident management mechanism.
3. Self-help first and rich in data

The modern consumer is self-sufficient. S/he wants to be able to solve problems by her/himself before relying on others. And in this regard, a help desk software tool can be truly helpful. It allows you to store handy tools like FAQs, how-to guides, and help articles as your knowledge base. Your customers can access it at any time for quick reference and customer-level problem-solving. Any sound customer experience provider will always empower you with this capability. The functionality makes your team's job easier.
Modern ticketing software tools are also made mobile-first to fit this bill. Their digital knowledge library is structured, updated, and optimized for multiple screens (mobile, tablet, laptop, desktop, etc.) for high-velocity incident resolution.
4. Automated notification mechanism

When it comes to a ticketing tool, automation has the last word these days. Automated help desk software tools collate requests across channels and create the corresponding tickets. The latter are then auto-assigned to respective customer service agents based on their expertise and/or the pre-defined parameters set by you. Automation gives you complete autonomy over the incident resolution process. Agents are kept informed and prompted throughout the process to prevent requests from being lost/forgotten. Automation makes the process so smooth that you end up with almost no request backlogs.
Read: the critical needs of modern Information Technology Service Management (ITSM)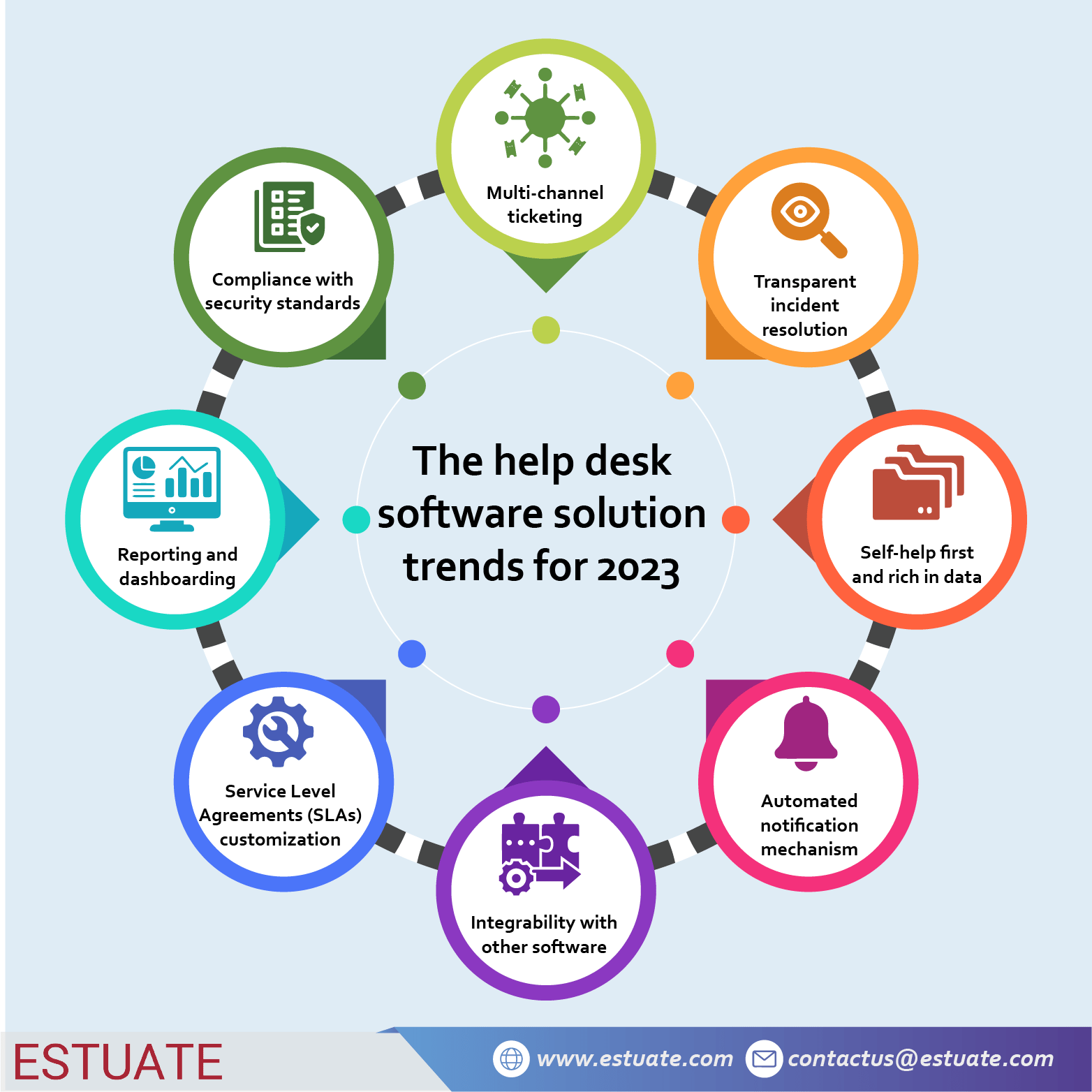 The features that are going to shape help desk software solutions in 2023
5. Integrability with other software

A software standalone can only provide a certain set of features and functions. However, if it has the flexibility to integrate with other business software, it can provide much more robust and coordinated service experiences. There then remains no need to switch between applications during issue remediations. Cross-functional teams can collaborate without difficulty. The total process becomes time-saving and efficiency-boosting.
6. Service Level Agreements (SLAs) customization

Sound ticketing systems have the ability to incorporate Service Level Agreements (SLA). SLAs make the entire incident resolution process well-functioning and streamlined. Customers are made aware of the timeframe for issue remediation. Your agents and reps are made aware of all aspects involved in each request scenario. All activities are executed via pre-defined rules and templates. There is minimal manual intervention or room for last-minute decisioning on the spot. Apart from being super efficient, such SLA compliance also ensures that business targets are met with the best possible service standards.
That said, SLAs vary from business to business. Therefore, it is important that your helpdesk is customizable to meet this flexibility. A competent customer experience provider can help you adhere to all business-critical SLAs.
7. Reporting and dashboarding

In-built reporting and dashboarding are at the heart of good IT help desk support solutions. KPI analysis can tell you whether your customer service is in line with the success you envision. Channel usage, ticket volume, ticket resolution time, first-response time, SLA compliance, agent activity, etc. are examples of such KPIs. Consolidated reporting leads to effective data visualization and decision-making. You can even automate the reports to reach you at specific time intervals with the help of a customer experience provider.
Here's a screenshot of the leading help desk platform, Zendesk, working its magic with customer chat metrics. A Zendesk support partner can guide you in this quest for customer excellence.
8. Compliance with security standards

Compliance with industry standards is a critical aspect of any help desk software tool. A help desk tool is a giant collaborative space. It involves various cross-functioning people, practices, and processes. Naturally, it means the involvement of a plethora of SLAs, password-protected documentation, and authorization. Non-compliance with security and safety standards can lead to system breakdown and even data breaches and loss.
Bring in help desk software zen with Zendesk
Zendesk is the world's leading customer service software platform. From customer experience to customer satisfaction, Zendesk helps with all. Team up with the right Zendesk partner to catapult your customer service into customer excellence. Zendesk implementation not only results in happy clients, but also productive and agile sales, marketing, and customer service teams. As a customer experience provider, Zendesk's offerings can be game-changing across verticals if leveraged right.
Estuate is a leading Zendesk Master Partner
Whether it's implementation, training, consulting, optimization, apps, or integration, we are the most trusted provider of implementation solutions for Zendesk. We are one of the world's leading Zendesk support partners.
Our Zendesk implementation plans are tailored to all business needs.
Zendesk Customer Service Management (CSM)
Our customer service and customized approach meet CRM needs across vertical business applications.
Zendesk IT Service Management (ITSM)
We provide industry-leading, simple, reliable, and cost-effective ITSM solutions for your modern business.
Get a clear view of your sales pipeline and keep your team focused on the most valuable leads and deals with our Zendesk Sell support. We also have a dedicated recurring revenue app for Zendesk Sell, EZ$tream. It facilitates automated calculation of subscription metrics and revenue forecasting in a seamless way. Explore EZ$tream
Zendesk Sunshine Platform Development
Our Zendesk Sunshine solutions include complete platform development, implementation, migration, and support services.
Read the press release:
Estuate Achieves Zendesk Master Implementation Partner Status
Our Zendesk expertise reflects in our consistent KPIs:
Core global system integration partner of Zendesk
Fast and secure migrations from any reporting platform
Out-of-the-box integrations and accelerators
100+ successful Zendesk projects
Consistent CSAT: 97%
Cross-industry expertise
Flexible deployment models
So if you need any assistance in amping up in the customer service arena, we are right here to help
Can IT help desk software truly live up to the challenges of modern-day customer service? What are your thoughts? Let us know on LinkedIn, Twitter, or Facebook. We would love to hear from you!