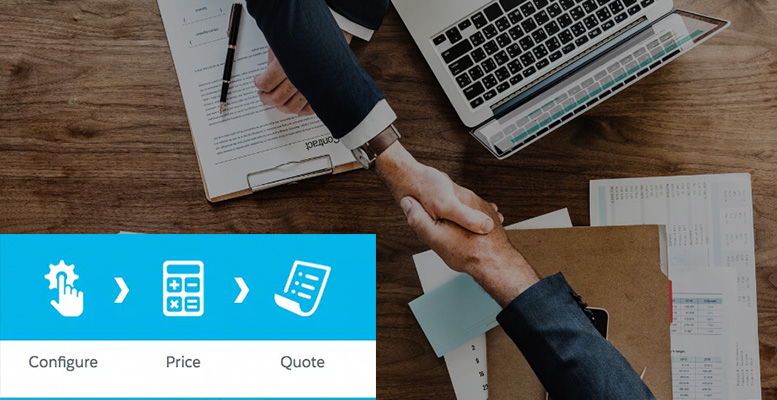 Generating accurate and professional quotes is an important sales activity. With custom pricing and product packages, this is not an easy job. It is even more difficult when you have unique customer demands and fierce market competition. The whole process of generating custom, configured quotes is time-taking and complex. A delay in sending a quote could lead to the risk of losing a customer.
CPQ software shortens the sales process and minimizes this potential risk. CPQ, which stands for Configure, Price, Quote is a set of smart software designed to help enterprises simplify and streamline sales activities. It reduces quoting errors and improves sales productivity. Companies experience a 17% higher lead conversion rate with the use of CPQ software.
It is a total lifesaver for sales organizations and many businesses are now implementing CPQ to stay on top of the market dynamics. Among the numerous CPQ solutions available in the market, Salesforce's CPQ Billing is one of the most trusted and widely implemented software. It offers all the business benefits of CPQ Billing with some value-added advantages.
Guided selling
Salesforce simplifies and optimizes the selling process with the help of guided selling. Guided selling is an interesting feature that allows sales reps to enter the information gathered from prospects into a handy tool and generate optimal product packages based on unique needs. It cuts down the time and effort involved in manual quoting and offers best fitting solutions to the customer.
Professional quote generation
The level of professionalism in connecting with the customer is a key component of your company's brand. Salesforce makes it easy for your sales teams by introducing highly customizable and smart quoting templates. With this, you can create and send sales quotations, invoices and professional branded proposals to your customers, and integrate it with customer e-signature to close deals faster.
Subscription billing and management
If you deal with products or services that are billed on a recurring basis, Salesforce CPQ is a smart investment for you as it goes beyond just pricing and quoting. It streamlines recurring billing and revenue management by automating the entire subscription billing process. It also helps you manage free trials, freemiums, setup charges, discounts, refunds, and renewals all in one place and allows you to offer flexible billing terms to meet specific client demands.
Intelligent analytics and automated reporting
Salesforce CPQ enables you to integrate your sales process with applications and software that boost sales profitability and help you make better decisions. For instance, by using in-built platform tools like Salesforce Einstein Artificial Intelligence, you can apply logic to improve your sales efforts, collection practices as well as adjust pricing according to external factors like trending market rates. Salesforce also allows you to generate automated performance and profitability reports accurately within the CPQ tool.
Cloud and mobile compatibility
The Salesforce CPQ is completely Cloud based and 100% mobile compatible. It is a Cloud-driven and highly secure solution designed by Salesforce experts for configuring, pricing, and quoting of complex products and services. It is also mobile-friendly and easy to use, helping you send smart and accurate quotes to customers on the go; all you need is a connected device.
A sophisticated CPQ software is a worthy investment for enterprises that wish to rise above the competition and automate the mundane administrative tasks involved in the selling process. The Salesforce CPQ is crafted by professionals and comes with a range of configurable capabilities that optimize the entire process from end-to-end, helping you maximize sales efficiencies and generate greater revenue on fingertips.