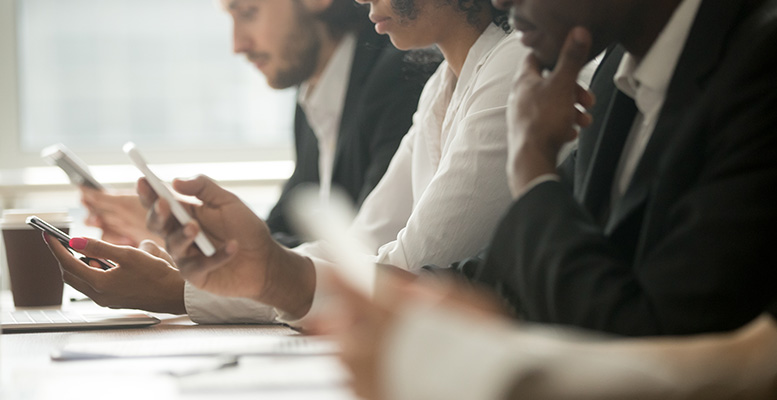 A decade ago, we couldn't have imagined that our cell phone could find us the restaurant of our choice, book movie tickets, navigate us to any place we wanted to go, book cabs for us or let us transfer money without visiting the bank. We could never have imagined that almost anything could be possible with just a few clicks! Today, we cannot imagine a life without a smartphone, without these applications.
Apps are making our lives so much easier. They're time saving, extremely convenient and so easy to access and use. They're not just changing our daily lives, but also redefining the way businesses operate. There are literally thousands of business apps that help in streamlining day-to-day business activities, boosting workforce productivity and carrying out operations smoothly.
There are business apps that provide customer support, enhance customer relations, interact with employees, manage inventories, assign tasks, track performance, manage remote workers, the list goes on. In this article, we've listed the 6 best applications that are a total life-saver for small and medium-sized businesses.
Accounting & Book-keeping: Intuit Quickbooks
Book-keeping and accounting is an inevitable activity of any business. With changing technology trends, businesses need to move on from traditional book-keeping methods to modern accounting software. Quickbooks is a comprehensive accounting and business management suite designed by Intuit for small and medium-sized businesses.
It is an easy-to-use book-keeping interface that allows you to record financial transactions, expenses, sales, income, payroll etc. It also generates automated spreadsheets, reports, graphs and financial statements. Plus, it is fast, easy-to-use and comes with customizable menus and toolbars, allowing you to access tools as you like.
Team Communication: Slack
Communication is an essential factor for the success of any project; more so in boundary-less workspaces, where people from different countries and timelines work together. Slack is a complete project collaboration application that allows teams to get together and communicate effectively in order to get work done.
This all-encompassing team communication tool comes with numerous features including private and group messaging, easy-to-take notes, automated reminders, powerful search options, voice and video calls and integrated file sharing among individuals and groups.
Workflow Management: Asana
Managing a project could sometimes be overwhelming, especially if you have critical deadlines or people working remotely for you. Asana is a Cloud-based web and mobile application designed to make project management easy for small and medium-sized businesses.
Asana allows you to assign tasks to individuals, set deadlines and reminders, monitor activity progress, visualize automated reports, share them with your teams and keep project workflows organized. It has a user-friendly interface and is also easy-to-integrate with hundreds of other software and applications.
Inventory Management: Shopventory
Managing inventories efficiently is a critical business activity for all retail businesses, whether they operate online or offline. Shopventory is a Cloud-driven inventory management application that helps brick-and-mortar as well as e-commerce retailers manage inventories effectively and maintain the right stock levels at all times.
It is an easy-to-use application with a range of striking features such as vendor management, inventory level alerts, inventory forecasting, multi-location and real-time inventory management, stock reconciliation, statistical reporting, analysis and several customizations.
File Storage: G Suite
As business adopt paperless methods of carrying business operations, the need for storing and managing digital records safely rises. G-Suite is the enterprise edition of Google Drive introduced by Google to help businesses create, store, manage and access unlimited business information including documents, sheets, slides, forms, presentations and sites over the Cloud.
It also allows businesses to connect internally through Google Apps such as Hangouts, Google+ and Hangouts Meet, and manage users, devices and information over a secure platform.
Business Administration: Zoho One
If you're looking for an all-in-one application that can single-handedly manage all important business activities for you, Zoho One is perhaps what you're looking for. With 40+ business apps in one packaged suite, Zoho One helps small businesses run all aspects of their operations including accounting, inventory management, CRM activities, help desk, employee communication, HR operations, recruitment and more.
Additionally, the software comes with native applications that are compatible with both iOS and Android mobile devices, allowing users to work from anywhere, anytime.
Smart businesses are using the power of mobility to optimize day-to-day activities, enhance operational efficiencies and achieve business goals quickly. If you too wish to adopt smarter ways of running your small business, just pick up your smartphone and get started.