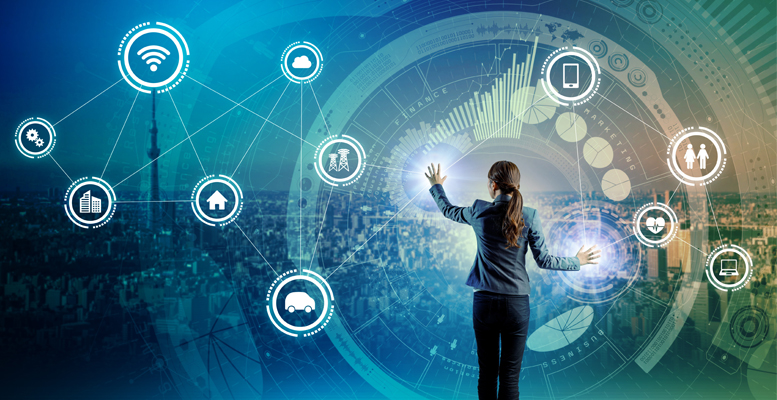 Digital transformation is a buzzword that has taken the world by storm. Is it just about technology or there's more to digital transformation?
It is a fast moving world, and technology is evolving each day with a rapid pace. The new age customer likes speed, innovation and convenience. That's where enterprises began to realize the need to reinvent their business models and transform digitally. While most industry leaders are already en route digital transformation, several enterprises worldwide are gradually stepping up.
But what does it take to make this buzzword a business reality? How long does digital transformation really take? From a broad perspective, digital transformation is mostly about bringing in new technology and digitizing business processes. However, if you dig in deeper and take a closer look, there's a lot more to it than just technology implementation. Digital Transformation is a culture; an ongoing, long-term process. It touches all aspects of an organization, including its various departments, its people, processes and policies.
Digital transformation is beyond digitization; it calls for a change in organizational culture. As a CIO, you must understand that there are several layers to digital transformation hidden beneath technology implementation. Here are 4 critical aspects to an enterprise-wide digital transformation apart from implementing technology innovations.
Change Management
Even the smallest of organizational changes are faced by employee resistance; and we're talking of digital transformation here. Before you set on a journey to transforming your business digitally, it is important to ensure that your people are comfortable with the new change. There are three key stages to an effective change management in an organization.
Awareness – Educate your people about digital transformation, and the value it holds for the organization and them.
Assurance – Build confidence in your workforce that digital transformation is for good and it will make work easier for them.
Assistance – Support them throughout the transition phase. Be a mentor, be a guide.
Training and Development
Implementing innovative technology and latest applications is a great initiative, but it's of no good if your people are not competent with it. As a CIO, it is an implied responsibility that you must train your workforce with the new technology coming in.
Conduct Learning & Development programs that equip them with the upcoming business processes and develop their skills to keep up with the change. It will not only prepare them for the upcoming digital transformation, but will also enhance their productivities. Additionally, it will help you retain valuable employees, and drive digital transformation smoothly.
Enterprise-wide Digitization
True digital transformation is when your entire organization is influenced digitally, including your front end activities, back end processes, day-to-day operations and complex business critical activities. It could be as simple as implementing and AI-enabled bot on your company website or as complex as automating your enterprise's risk management practices.
Digital transformation is not an instant process. It takes months, even years for an enterprise to fully transform digitally. It is a continuous process that fetches long-term benefits for an enterprise. The best strategy to carry out an enterprise-wide digital transformation is to focus on one department (or process) at a time, and integrate them together over time.
Risk Assessment and Plan of Action
Digital transformation leads to massive business change. However, it carries a set of challenges and risks that need to be addressed cautiously. It involves huge investments and business efforts to implement or migrate to new technology. For successful digital transformation, it is critical that you deploy the right technology in the right department and choose the right implementation partner.
Before you start with the implementation, revisit the areas of risk and come up with a plan of action to cope up with the risks. It could be internal risks, such as lack of IT resources to carry out the project, or external factors like stringent governance regulations. A strategic risk assessment can help you manage any risks that come along and implement digitization successfully in your enterprise.
The whole idea behind digital transformation is to help businesses grow and stand out in the cut-throat competition. Successful digital transformation is digitization runs across your entire organization and your people, processes and policies are in sync with the digital revolution.
Prakash Balebail

 

is the founder and CEO of Estuate. He comes with over two decades of experience in driving digital transformation across industries and strong expertise in disruptive technologies like AI, Automation, IoT and Machine Learning.