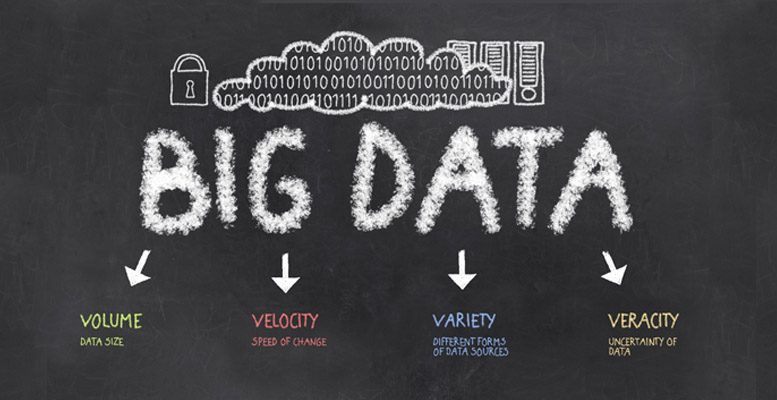 Big Data is making big noise in the digital world. How long till it affects you?
The Information Technology is a dynamic space that keeps evolving with time. In the recent past, there's been big buzz about big data. But has it affected you already? Or are you still thinking it's not for enterprises like yours? All businesses, regardless of their size or nature produce data; and hence sooner or later, big data is certainly coming for you.
As the name suggests, big data is huge, massive sets of data too large to be managed by traditional data management tools and software. It is characterized by the four V's that build its foundation– volume, velocity, variety and veracity.
Volume– Mammoth sizes of data is accumulating within data driven enterprises. On an average, about 2.3 trillion gigabytes of data is produced every single day.
Velocity– The rapid speed with which this data generates and piles up is alarming.
Variety– This big data comes from disparate online and offline sources and in different forms, mainly structured and unstructured.
Veracity– The generated big data is highly abnormal and inconsistent, making it difficult for enterprises to make sense of it and build trust in their data.
And, because of these factors, enterprises across the globe are getting serious about it and taking measures to make the most of big data. If left unmanaged, big data can turn out to be a huge challenge. However, if harnessed and utilized well, it can introduce new opportunities for businesses.
Why is Big Data such a big deal?
The amount of structured and unstructured data is expected to grow manifolds, almost by 60-80% every year. Undoubtedly, Big Data is here to stay. Whether or not you realize it today, it's not far until big data hits your industry. And when it does, you don't want to fall behind.
And hence, it is important that businesses, big or small, prepare themselves for a data explosion and adopt technologies that can help them make sense of their data, make appropriate use of it and turn big data to their advantage.
Industries impacted by Big Data:
Big data is everywhere. It is influencing diverse businesses in multiple ways. Here we're discussing some of the major industry niches have been deeply impacted by the emergence of big data and analytics.
Finance and Insurance
The finance and insurance industry is largely dependent on data coming from various sources. Big data technology brings an array of opportunities for financial enterprises to explore. This includes innovative payment mechanisms, faster data processing, real time analysis of customer and financial information, intelligent market forecasts and protection from fraudulent activities.
Healthcare and life sciences
We have entered the age of Medical Internet of Things (MIoT). There have been massive advancements in the healthcare industry since the emergence of big data. From maintaining patient details, to medicine records, quick diagnostics to digital monitoring, personalized treatments and production of evidence based medicines big data is tremendously changing the way healthcare and life sciences industry operates.
Retail
Retail is another data intensive industry, both in terms of online and offline data accumulating every day in huge numbers. The retail industry has seen a sea change with Big data and advanced analytics. It helps retailers to introduce more effective payment gateways, manage inventories efficiently, analyze market trends, and optimize product pricing to stand out from competitors.
Telecom
The telecom industry deals with plenty of data on a daily basis and big data has opened up significant growth opportunities for telecom businesses. Telecommunication enterprises are exploiting big data and business intelligence to understand customer behavior patterns, enhance user engagement, reduce customer churn, and improve data processing abilities.
Marketing
Modern marketers are making use of big data to the fullest. They have chunks of raw data coming from the internet, right from website clicks, to user details, geographies and search histories, and what not. Big data enables marketers use this information to drive their marketing efforts in the right direction like creating a workable sales funnel, running personalized marketing campaigns, predicting market trends, generating leads and maintaining existing customers effectively.
All in all, Big Data is reshaping the information technology world, and opening doors to greater avenues. The rapid rise in the volume of data, and privacy threats could certainly be a daunting aspect of big data. But with the right data management tools and effective big data solutions, you can make big data your biggest strength and grow your business exponentially.