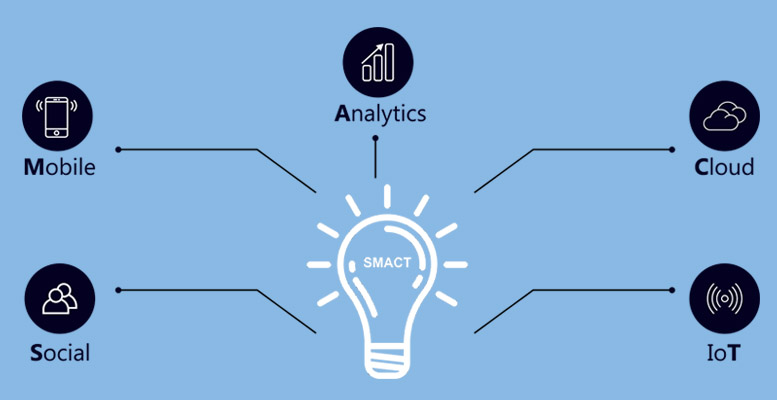 SMACT technologies are the key catalysts for a digital transformation. Have you acted SMACT yet?
The IT landscape is constantly evolving. Over the years, technology has changed businesses for good. So much so, that consciously or not, we've entered the era of digital transformation. Digital transformation is a gradual, yet imperative move for all businesses.
While it may mean different things to different industries, in general terms, it is the process of applying digital technology to all areas of a business that eventually transform the organization digitally.
Smart enterprises are embracing SMACT technologies to up their game in the IT world. SMACT, which stands for Social Media, Mobile technology, Advanced Analytics, Cloud and Internet of Things (IoT) is driving a digital revolution in modern enterprises. In this article, let's dig deeper into each component of SMACT and understand how it is enabling a digital transformation.
Social Media
The modern customer is aggressively social. With over 1.8 billion Facebook accounts, 330 million Twitter accounts and 600 million Instagram accounts, social media is more powerful than ever before. It opens up a world of opportunities to explore untapped markets and expand businesses. A social media strategy helps organizations strengthen their network, build a strong brand and enhance business prospects digitally.
Mobile
Mobile technology is at the core of digital transformation. Mobile devices have the potential to connect businesses to customers anytime and anywhere. Today, enterprises are adopting "mobile-first" strategy, considering mobile users as their primary target market. Leveraging mobile technology as a part of digital transformation involves strategizing, developing, launching and monetizing mobile applications to reach out to millions of mobile users.
Advanced Analytics
As big data grows constantly, it brings opportunities for advanced analytics. Analytics allows businesses to offer the right products to the right customers at the right time. Real-time analytics gives businesses a competitive edge in the digital arena. Enterprises are using advanced analytics, Artificial Intelligence and deep learning to understand customer behaviors, uncover hidden patterns, discover new market trends and make smart business decisions.
Cloud
Cloud computing and digital transformation go hand in hand. Cloud based services help organizations store and manage massive data sets effectively, and simplify their complex infrastructure. Studies reveal that cloud adoption results in process efficiency by 18.80% and cost reduction by 16.18%. Businesses around the world are adopting cloud based platforms to accelerate digital transformation.
Internet of Things (IoT)
With the development of sensors and smart devices, technology is connecting things and internet in an inspiring way. IoT has become a buzz word in the technology industry and is touching several aspects of the day-to-day life.  It is a key catalyst to digital transformation as businesses are capturing ways to engage customers in new and innovative ways through IoT-powered devices.
The best success strategy for digital enterprises is to keep evolving over time with advancements in technology. Digital transformation is no more an option; it is the need of the hour. And SMACT is fueling digital transformation with its five vital elements, empowering businesses with sophisticated technology.