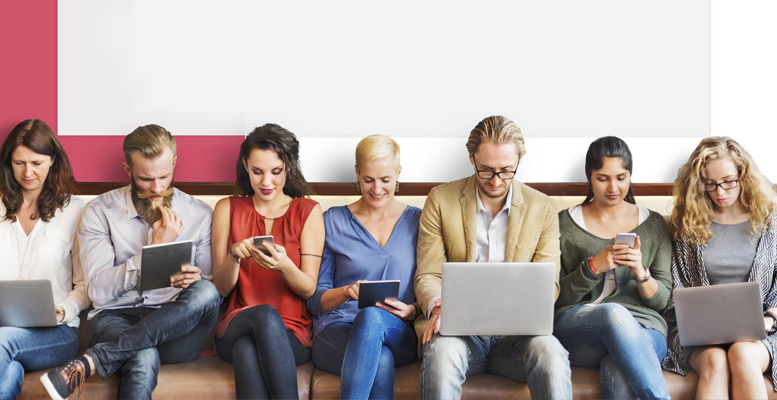 Mobile technology is a growing business trend. Here are 5 reasons why you must consider adopting mobility in your enterprise.
Mobile phones are an integral part of our daily lives. A research conducted by British psychologists states that an average adult spends roughly 5 hours in a day using his phone.
Thanks to smartphones that come with numerous apps that make life simpler as well as entertaining. From online shopping to food delivery, web maps to mobile banking, and social media to self-healthcare apps, there's an app for almost everything today.
As much as 269 billion mobile apps were downloaded in 2017. This rapid growth in the mobility sector is inspiring all businesses to embrace mobile technology in some form or the other. In this article, we have listed out the top 5 reasons why all businesses need to enter the world of mobility.
Greater accessibility
This is the era of hand-held devices. As of February 2017, mobile devices accounted for 49.74 percent of internet usage worldwide. Mobility is reshaping the way businesses reach out to customers. Increased mobile data usage is pushing enterprises to think 'Mobile First'. Mobility ensures that your customers can access your products and services anytime from anywhere. It also enables you as a business to attract potential customers and engage existing customers effectively through interactive apps and mobile responsive sites.
Improved customer service
In a world where customer is the king, businesses are constantly on their toes to offer better customer service and enhance customer relations. Mobility is hugely impacting customer experience in multiple ways. It enables you to offer a personalized shopping experience based on customer purchase histories and preferences. It also facilitates faster and easier troubleshooting with 24X7 customer support. Mobility is turning out to be the foundation of excellent customer engagement.
Renewed marketing strategies
Gone are the days when marketers used to shoot email campaigns to customers only to get spammed later. Mobility is changing the role of marketing. While 65 percent of email is spam, less than 10 percent of SMS is. Traditional marketing methods are being reformed and mobile technology is being used more and more to capture markets and promote products and services. Marketers are using SMS marketing, mobile advertising and social media marketing, changing overall marketing strategies based on target markets.
Enhanced internal communication
In addition to using mobile technology to engage customers and increase sales, businesses are also developing applications and web portals to facilitate internal business communication. It is a great way to establish a strong network across the enterprise. Today, about 60% employees use apps for work-related activities. Whether it's sharing important business information, or keeping them engaged and ensuring business goals are effectively met, enterprise mobility is now a critical component to improving internal business communications.
Better branding
Mobile technology and mobility tools expose your business to millions of potential customers, leading to improved brand awareness. The more your customers know about you, the more they're likely to do business with you. The customer always wants more. Having a mobile responsive site, a round-the-clock support mechanism, a well-performing app, are all ways to improve your business brand and get an edge over competitors.
The concept of mobility is exciting because it is technology made portable. In a world where the customer is time-poor, businesses have to go that extra mile to offer convenience. Mobility delivers convenience, flexibility and speed, which is why customers are embracing it in all ways. Have you already entered the world of mobility to improve your business?