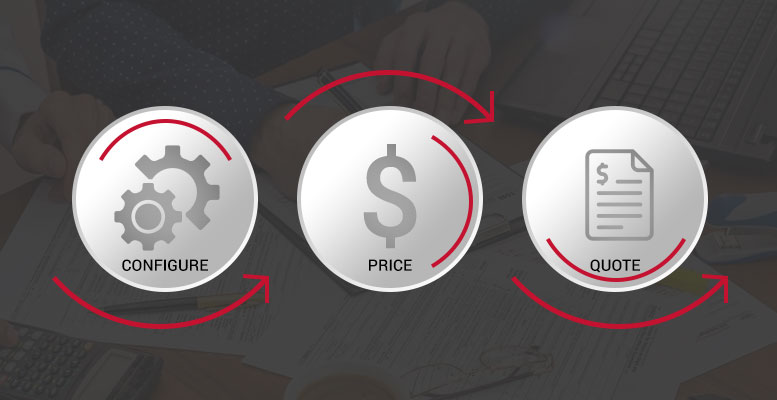 Sales is a challenging job. From generating leads to engaging prospects, dealing with competitors and closing deals, salespeople have many crucial activities. Their role becomes even more challenging when multiple products and services come into play; when they start dealing with diverse market groups and pricing becomes more flexible and personalized.
When your enterprise grows in size and complexity, you need more effective business processes to survive fierce competition and grow in the market. Sometimes a technology modernization; and sales is not an exception.
In such complex business landscapes, CPQ is a lifesaver for sales professionals. Gartner says the CPQ market is expected to grow up to 25% by 2020. It looks like a must-have for modern enterprises in the coming years to improve sales and revenue.
What is CPQ Software?
CPQ, or Configure Price Quote is a set of software that helps sales teams manage the pricing of varied products and services, create accurate quotes and configure custom product packages for customers.
Do you really need a CPQ?
CPQ software improves the productivity of your sales teams and streamlines your sales process. It helps you generate sales quotes faster and with complete accuracy. It shortens the sales cycle and removes errors caused due to manual quoting. It also helps you send quotes, manage invoices, maintain configuration records and reporting.
If you're an enterprise with a wide range of offerings, customer-specific quotations and configured pricing, you can definitely benefit from a CPQ software. However, not all businesses absolutely need a CPQ software; especially the ones that have limited products or services and fixed price models.
Selecting the right CPQ for your enterprise
With hundreds of CPQ tools and vendors in the market, it is difficult to select an ideal solution to suit your enterprise needs. Consider these key factors while looking for a CPQ for your enterprise.
Find your CPQ type
There are two popular types of a CPQ solution – On-premise and Cloud-based. On-premise CPQ software is a one-time investment as it is installed on authorized computer systems. It gives you complete ownership of the software. But you must look after its in-house maintenance, timely upgrades and strong security.
On the other hand, SaaS or Cloud-based CPQ systems are hosted on the Cloud by an external vendor. Sales teams can even access it remotely. It is a recurring subscription, and the vendor carries out maintenance, upgrades and security. Select a CPQ solution that best suits your enterprise and is more sustainable in the long run.
Understand your requirements
Carry out a detailed research with your internal sales teams and try to understand what CPQ features could benefit them the most. Depending on how basic or advanced a CPQ is, it can have multiple features. Choose a solution that offers the most suitable features for your sales team. Product configuration styles, pricing adjustments, automated proposals, custom quotes, analytics and guided selling are some primary features to consider.
System integration is essential
Some enterprises still depend on legacy applications while some could be using newer technology systems. A sophisticated CPQ software is easy-to-integrate with traditional as well as modern software. Integration with your existing technology and applications is a key consideration.
Integration helps improve not just sales but your marketing activities too. An ideal CPQ should also be able to sync with your existing sales and marketing applications, customer database, ERP and CRM.
CPQ should be mobile-friendly
There is a growing trend in the demand for mobile CPQ systems. Mobility enables your sales teams to send quotes, configure pricing, view reports and communicate with prospects on the go. In this fast-moving and digital landscape, mobile CPQ also ensures higher customer satisfaction due to its speed and convenience. Go for a CPQ solution that is mobile-friendly and can be accessed anytime, using any device
It should be easy-to-use
The ultimate user of the CPQ software is your sales team. Some sales reps might be tech savvy, while others may not be. In either case, select a CPQ software that is easy to install, operate and customize as per individual needs. It takes less time to train your sales teams on software with simpler functionality. The implementation is also quicker and more effective.

You must modernize your sales techniques and generally followed practices from time to time. Many businesses are now realizing the need for technology-driven sales processes to stand out among competitors and satisfy the customer. Consider adopting a good CPQ that suits the unique demands of your enterprise to build a strong sales team and make your sales process more resilient in the digital age.