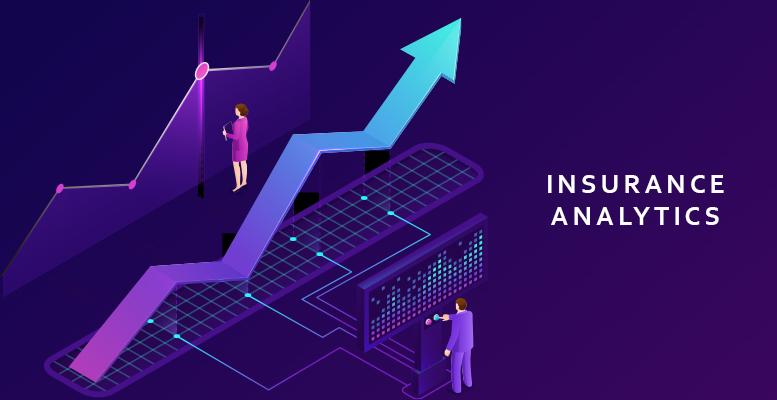 In today's economic climate, insurance is a critical safety net for secured living. Insurers are using various instruments to modernize the scope of this life-affirming tool. Insurance analytics solutions are a classic example here. Over time, the use of analytics in insurance business has ushered in digital transformation in the insurance industry. And, the adoption of insurance data analytics software has helped speed up the process.
Let's understand with an example. Suppose you run an up-and-coming real estate agency that rents/sells houses to people. To promote your business, you do some local, offline marketing. You also send your sales staff for door-to-door lead generation. But, this ends up involving a high cost & time commitment from your end. And, conversion also turns out to be sluggish.
Then your friend advises you to set up a website and develop a social media roadmap, i.e., go digital. The digital-first strategy helps you scale up in a short span of time. You then proceed to use web analytics to crack the buyer psyche and fuel your business forward. In insurance too, it's much the same when you leverage insurance analytics solutions.
What are insurance data analytics solutions?
Insurance data analytics solutions are practices that identify, collate, and analyze insurance customer data. The idea is to optimize value & retention and minimize risk & cost for the insurers. Far removed from traditional practices, insurance analytics solutions have been a disruption for the insurance industry.
The COVID-19 pandemic has especially propelled digital insurance in the spotlight. The latter has a major role to play in ensuring holistic human & economic well-being. And, its effects are also far-reaching. From ensuring remote access and procedures to enhancing user security. It further helps insurers SWOT analyze emerging markets and develop crisis-proof continuity plans.
According to market research, the global digital insurance platform market size was valued at $96.34 bn in 2020. By 2030, the market is expected to reach $279.51 bn. This represents a CAGR of 11.3%.
Why does the digital insurance industry need insurance analytics solutions?
Increased sales productivity
Tailored policy marketing
Improved insurance underwriting
Accelerated claims management
Strengthened fraud detection
Data analytics has forever been instrumental in driving insights from raw business data. Today, analytics is at the heart of almost every industry, and insurance is no exception. Smart insurers are shifting toward core processes digitization, cloud-native storage, and dynamic sourcing models. Given the economic climate, today's insurers need to scale up toward this. And, insurance analytics solutions offer just that.
Here are 5 ways analytics spearheads digital transformation in the insurance industry:
1. Increased sales productivity
Conventional sales tactics like cold calling and door-to-door pitching do not always guarantee a sale. To address this, modern insurers are leveraging insurance data analytics software solutions.
CRM software, for instance, extracts insights from unstructured user data for data-driven prospecting. This, in turn, saves the insurer's time and effort to be spent otherwise on qualifying leads.
Analytics today is fueling digital transformation in insurance. Did you know, acquisition is 5x costlier than retention in the insurance industry? Customers satisfied with faster service are thus more likely to renew their policies. Insurance analytics is delivering market share and profitability to insurers and tangible value to customers.
2. Tailored policy marketing
Customers like offerings tailored to their needs. Insurance data analytics software have the ingenuity to execute personalized marketing programs. Analysis of buying behavior, market trends, past investments, and even health information helps in the application of business analytics to insurance businesses. Personalized capabilities help businesses reach customers using the right channels and timelines. Predictive insurance analytics also enables them to run personalized upselling and cross-selling campaigns.
This makes insurers gain an edge over their competitors. Moreover, digital-first insurance is available 24*7 to enable seamless transactions. It becomes easier to garner customer engagement and loyalty this way.
3. Improved insurance underwriting
Underwriting is a vital process in insurance, stock markets, and banking. In insurance, underwriters evaluate risk and determine the feasibility of insuring a customer. They determine the insurance cover and premium using factors like the client's income, age, medical conditions, vehicle type, property type, location, etc.
Smart insurance analytics software plugs in underwriting analytics for this. Take NLP (natural language processing) for example. NLP helps verify a customer's digital presence. Such intuitive tools help insurers with a 360-degree view of clients' creditworthiness and risk per policy ratio. More recently, insurance analytics solutions have also been helping in risk scoring and also premium & insurance coverage calculations.
4. Accelerated claims management
The claims settlement process is another critical step in insurance. Insurers must check off an extensive checklist before paying out the claim amounts. Traditionally, customers have always wanted this process to be faster and smoother.
Today – thanks to the application of analytics in insurance businesses – claims settlement has sped up. Analysis of claims and claim histories facilitates instant pay-outs, scoring, prioritizing, and processing claims basis experience and loss type. Insurance analytics also brings with it the automation of redundant tasks. This is particularly useful for handling client emergencies despite the ad-hoc analyses involved. Insurance analytics solutions can automate situation-specific responses and information extraction using advanced APIs.
Indeed, these measures are synonymous with the digital transformation of the insurance industry.
5. Strengthened fraud detection
Fraudulent claims, identity theft, and hacking attacks are commonplace in the insurance industry. Such erroneous filings cause financial losses to insurers and affect relationships with customers. A robust fraud detection and prevention mechanism is hence non-negotiable for insurance providers. Predictive analytics, a modern insurance analytics solution, is instrumental in detecting potential fraud. Its modeling algorithms (with ML & AI) along with BI tools have contributed to the digital transformation in insurance.
Insurance data analytics software essentially helps establish a rigorous process of passing claims. It cross-verifies each step with client history using data & text mining.
Welcome to the digital era of insurance
The insurance industry thrives on data. Insurers have to process and handle huge amounts of data every day. And, this is more so true in today's age of big data. Toward this, insurance analytics solutions are engendering digital transformation in the insurance industry. Digital-first insurers today are future-proof.
An expert IT consulting firm that understands the insurance industry can help you dig deeper into the benefits of insurance analytics solutions.
Insurance analytics solutions are one of Estuate's core specializations
Our team of certified SMEs has worked on 100+ digital insurance projects. These projects involved strategic use of insurance analytics software like Zendesk, AWS, and Java. We have advanced data management and analytics tools to help with process organization, mining, and engineering in the insurance industry.
If you are looking to leverage business analytics for your insurance business, please feel free to visit us. We are right here to help.
Do you think insurance analytics solutions are helpful compared to traditional insurance practices?