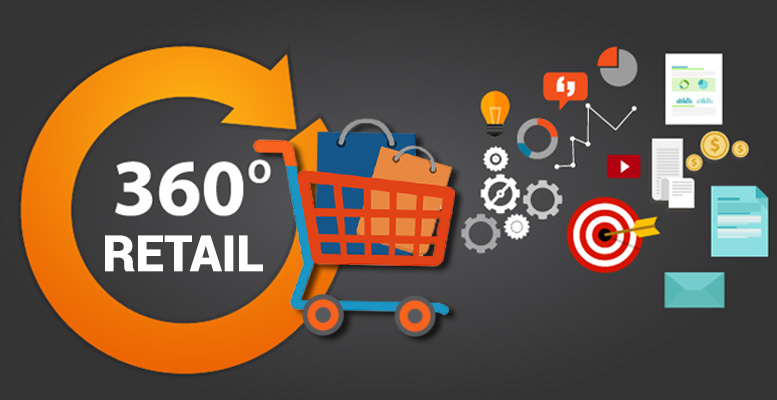 The retail industry is highly rewarding, yet equally challenging. Here's why 360 Degree Retail is your key to success.
Retail is probably the easiest business, as well as the toughest. As simple as running a retail store looks, it is rather complicated to attract and please the customer. The customer rules the retail industry. Literally! Especially in a modern landscape, where the market is extremely competitive and the customer is smarter than ever before, growth in retail is like climbing a greasy pole.
A decade ago, success in retail depended on the expansion of your brick-and-mortar store. Today, it isn't enough. Technology has massively influenced the way the industry operates as well as consumer behavior. The emergence of e-commerce markets and multi-channel engagement has raised consumer expectations from retailers. Today, success in retail hugely rests on how well you cater to changing customer demands for a long term.
Customer is king. This remains the number one rule for success in retail. As businesses understand this, they also realize the need for a robust mechanism to keep the customer highly delighted and constantly satisfied. It has led to a new sensation in the retail market, 360 Degree Retailing.
360 Degree Retail is the practice of optimizing all aspects of a retail business, making each activity more customer-centric. The idea is to ultimately deliver a 360 degree shopping experience to the customer each time. Recent technology advancements, like consumer analytics, digital marketing and business intelligence allow this, strengthening your position in the market, and enabling growth despite the competition. Here are some key aspects you must consider to be able to offer a 360 degree retail experience to your customers.
360 Degree Shopping Channels
The era of multi-channel shopping has already set in, and it's just time to move on from traditional brick-and-mortar stores and start selling on multiple channels. Today, customers are more comfortable purchasing through online stores and ecommerce portals than visiting a physical store. Depending solely on brick-and-mortar stores could be causing you a significant loss of business and you must consider spreading your business to other channels. It also allows you to capture wider markets and sell globally.
360 Degree Retail Analytics
Successful retail is all about making the customer feel valued and privileged. Analytics is an absolute boon to the retail industry. It facilitates retailers to study market trends, understand customer preferences and customize offerings to cater to each target group. An investment in retail analytics can elevate your retail business outstandingly, helping you make well-informed business decisions and personalize offerings based on dynamic customer demands.
360 Degree Retail Marketing
The retail industry faces ruthless competition, and it only increases with time. A key element for survival and growth in the industry is effective marketing. Traditional marketing methods may not be too effective in a dynamic world, where customers are scattered across different media of communication. Digital marketing trends enable retailers to target the right customer, through ideal marketing channels and with the appropriate content.
360 Degree Customer Engagement
If enticing customers is difficult in today's retail landscape, engaging them is even more challenging. It is difficult to retain customers due to several factors. A little extra effort in engaging customers effectively can result in building long term customer relationships. The best way to do this is by maintaining the quality of your products, strengthening customer support services and running loyalty programs such as discounts, rebates and privilege schemes.

In a volatile business world, success hugely depends on how quickly you adapt with changing technology and how well you nurture your customer. 360 Degree Retail is all about realizing that a happy customer is your greatest achievement, and improvising all your retail activities with a customer-centric approach.