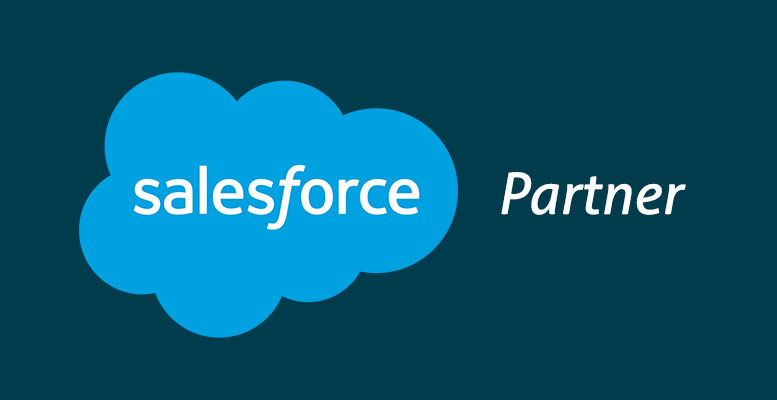 Are you looking for a Salesforce implementation partner? Here are 5 key factors to consider while picking an ideal Salesforce partner.
So, you have decided to go with Salesforce as your CRM software! The choice is quite obvious, Salesforce being the leading name in the CRM software market. It is the world's largest CRM platform, an ever-evolving ecosystem with incredible benefits and rich functionalities for its users. It is a Cloud based, flexible, easy to use CRM and you can customize it to meet your business specifications. Plus, it has a diverse community of professionals always ready to support and help grow your business, making it the most popular and widely adopted CRM platform across the globe.
But, how do you plan on implementing Salesforce CRM into your system? For many businesses, it might seem easy and more economical to "DIY" the whole CRM implementation program. However, trying to cut initial costs doesn't always pay off. Salesforce is a vast and diverse platform; more than just a CRM, which is why it is recommended to implement Salesforce with the help of expert consultants.
Again, when you set out looking for experts, you are clearly spoilt for choice. There are literally hundreds of Salesforce providers in the market, with competitive pricing and promising benefits. Selecting the right Salesforce consulting partner is your first step towards successful Salesforce implementation and to make things easier for you; we have listed out here the five key points to consider while selecting a Salesforce partner for your business.
Salesforce Certifications
Majority of Salesforce consulting partners claim to have Salesforce "certified" employees on their team. Salesforce conducts several basic and advanced certifications for developers, administrators and consultants. Moreover, it requires its members to pass release exams thrice every year to ensure that they are up to date with the technology and maintain the claim to their title.
It is therefore essential to ensure that your consultants are not just Salesforce certified, but are also thorough with the core technology and proficient with all latest Salesforce advancements.
Implementation Experience
A key factor to determine the worthiness of a Salesforce partner is to look at their prior experience with Salesforce projects. How many Salesforce projects have they successfully carried out? How recent or old are they? Recent successful projects indicate that the vendor is still doing well in the market and can be considered.
What do clients say about them? Customer reviews are a great way to estimate the reliability and measure the performance of a vendor in the market. Look out for positive as well as negative comments and note what customers specify. Also, remember that successful Salesforce implementation is more about quality than quantity.
Industry / Domain Expertise
In order for your Salesforce implementation to be successful, go for a partner who has a fair understanding of your domain and industry, someone who has done similar projects in the past and can handle your business requirements efficiently.
It will then be easier for you to implement Salesforce, suggest changes, integrate and customize your CRM requirements. Also, since Salesforce implementation is a collaborative effort, it will be much easier for your internal teams to work with a Salesforce partner who understands your business processes well.
Value for Price
Now that you've decided to implement Salesforce CRM in your organization, it calls for a detailed planning and budget. Estimate your CRM requirements, the costs of Salesforce implementation, integration and training. Take into consideration the initial and overhead costs, which might include licensing, consulting fees as well as support service costs.
Although the initial implementation costs might seem to be somewhat higher, Salesforce once implemented brings greater ROI to your business. An ideal Salesforce partner will not only help you plan your budget, but will carry out the implementation efficiently around a reasonable budget within specified timelines.
Long-term Support
An investment in Salesforce is a long term business strategy and leads to a phenomenal organizational change. A successful CRM project is not just confined to implementation and training. Several aspects come into picture post implementation.
These might include CRM maintenance, technical or admin support and system upgrades. It is advisable to select a partner that is willing to be available as a long-term partner and can offer you post implementation admin and maintenance support, at least for a year.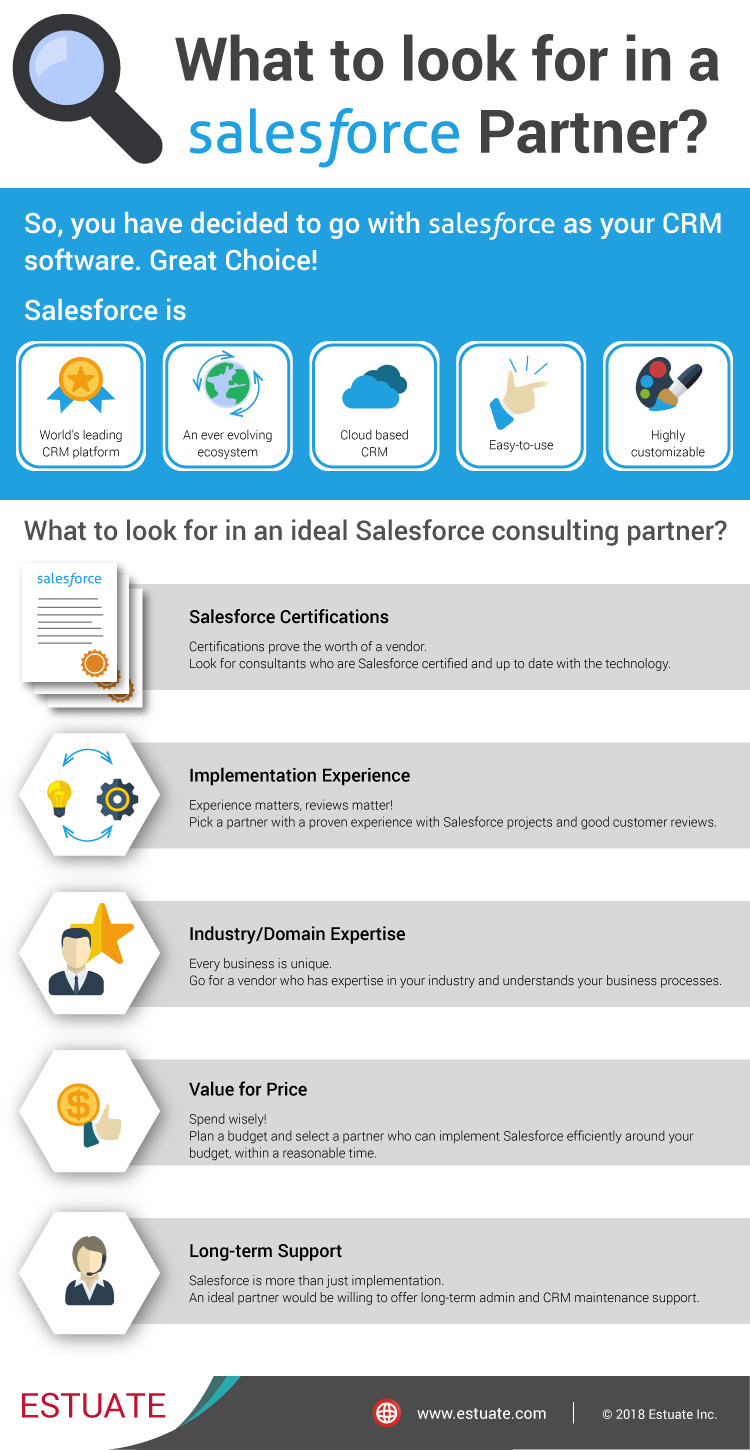 With outstanding features and amazing business benefits, Salesforce has captured the CRM market entirely. However, success largely rests on how well it is implemented in an organization. Consider these key factors while looking out for your ideal implementation partner and select a vendor who doesn't just hold the expertise and experience, but is also reliable with a good track record.