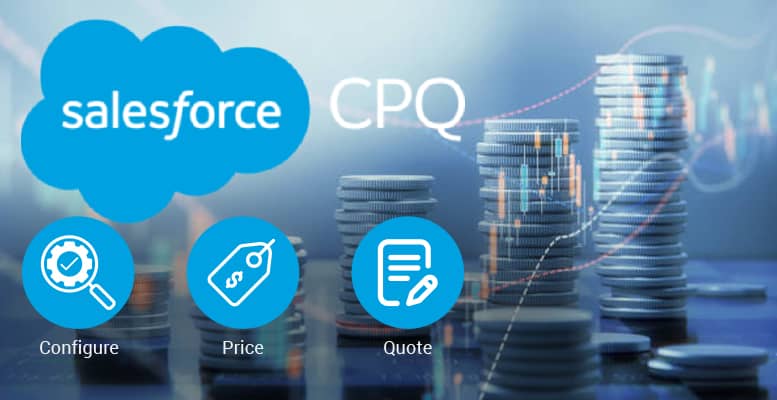 In our earlier articles, we have discussed choosing the right CPQ (Salesforce) for our business. In that, we have known how salesforce CPQ use can maximize sales efficiencies and can help in generating greater revenue. Not just that, you can also find tips on selecting the right CPQ for your Industry. But just selecting and using the software is not enough; instead, we need to focus on implementing it effectively into our business so that we make the most out of that software. So in this article, we shall understand some of the best practices you can follow so that CPQ implementation brings in success to your sales business.
If you're just starting with Salesforce CPQ or looking for support with Salesforce CPQ implementation, you've come to the right spot. But before we roll on to the steps for successful CPQ implementation, let's have a brief understanding of what CPQ is? Why it is very much needed and how its benefits.
What is CPQ?
CPQ is the abbreviation that stands for "Configure, Price, and Quote." CPQ is a sales tool that expands the customer relationship management framework. It is a more organized tool that promotes the selling process through a precise generation of quotes for orders. It is the best solution that helps sales representatives organize the right product combinations, manage discounts, plan pricing, automate approvals and deliver customer-based specific quotes.
The need for CPQ software and its benefits
CPQ has become one of the essential selling tools needed for today's fast-growing market. CPQ simplifies, speeds up, and organizes the sales process, enabling you to sell more products more quickly. CPQ software facilitates the work of sales representatives by consolidating sales data and providing them with a distinct view of what they can offer to the customer. The tool also suggests them with any extra configurations, add-ons, training sessions or complimentary products.
Watch this video to understand the importance of Salesforce CPQ.
In the recent study report done by Salesforce, we can see that the use of Salesforce CPQ and Billing has delivered improved accuracy, efficiency, and speed in their Quote to cash process.
The market results show that sales business has witnessed

With our extensive experience in CPQ implementations, we have outlined some of the best practices that will lead you to effective Salesforce CPQ implementation.
Establish CPQ targets
Firstly, you need to set realistic targets for CPQ based on your sales process needs. The targets you set will help you decide whether the CPQ delivers the real Return on Investment (ROI). You need to set specific objectives like lowered time spent on selling, the shortened processing time for quotes, a standard increase of the order value, precise quote generation, improved win, and renewal rates. On achieving these goals, you can set the new targets that will further optimize the process continuously.
Design and prioritize CPQ features
Knowing your customer is vital to successful sales. Design the product model carefully to create configurations that best suit consumer purchasing behaviours and execute a process geared towards reducing process delays. Prioritize your sales targets and incorporate selected Salesforce CPQ features that can satisfy your essential business needs. Intuitively bundle products; to help sales reps integrate products and services to address particular customer demands uniquely.
Upgrade data and initiate system integrations
When you have set your product model and pricing, you need to concentrate on what data is required for the CPQ process and from where it should be derived. Ensure that the information is updated and verified for reliability and accuracy. Import product tax rates, discount rates, price packages, and template details into the CPQ and ensure a smooth integration of the Salesforce CPQ with your other ERPs via API integrations.
Measure and improvise progress
Salesforce CPQ is a complicated tool with multi-functional features and is more challenging to drive adoption due to its complexity. The ideal way to ensure continued engagement with the project is to set some intermediate targets to ensure rapid progress and tracking the impact of the CPQ implementation. You can measure the metrics by conducting sales team satisfaction surveys capturing various tool aspects.
Have the staff trained and the tool tested
Sales practitioners should be well-trained and qualified to implement the CPQ tool in order to achieve full benefits from the tool. A well-trained staff can maximize guided sales, perform smart catalog searches and geo-based sales to boost productivity by expediting routine tasks. The CPQ requires thorough pre-implementation testing of functionalities, integrations and workflows with real-life scenarios.Salesforce CPQ is undoubtedly one of the market's most flexible tools that can improve your ability to streamline sales operations.
In your CPQ implementation journey, Estuate can be your ideal Salesforce CPQ implementation partner who can help you make the most out of your CPQ. Estuate has implemented many enterprise-grade CPQ ventures for some of the most prominent and competitive organizations over the last decade. Our skilled salesforce consultants work closely with stakeholders, and IT teams to reduce the time and complexity involved in delivering CPQ solutions.