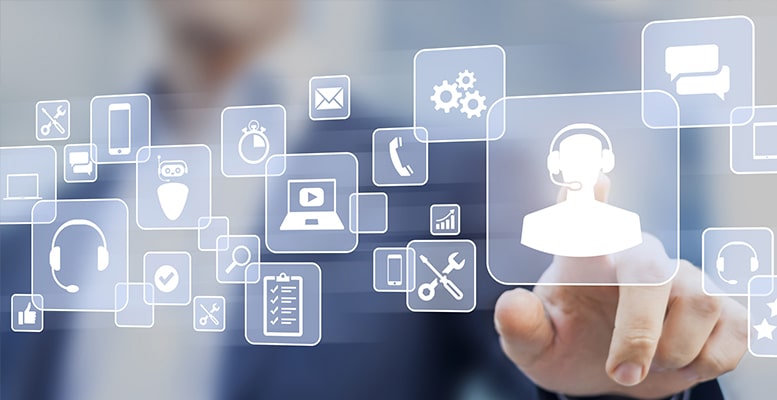 In any business, customer service forms the core of overall growth and development. With advancing business technologies, no wonder, customer service software and cloud-based CRM (Customer Relationship Management) support have taken center stage today. And especially with ever-evolving customer needs, a robust support system is indeed needed for assisting users in the journey of discovery, usage, and troubleshooting.
Putting all this stress to rest, thankfully there are cloud CRM software like Zendesk. A Zendesk implementation plan is the gateway to reaching ultimate customer satisfaction.
However before delving into what Zendesk brings to the business table, let's take a closer look at the central theme of this discussion – Customer Service.
Why Customer Service Matters?
Let's decipher with an example. Suppose, one day you go shopping for some formal clothes. On entering the shop, you see no sales assistant at the entrance. As you wander further, you notice that the clothes are not grouped in categories – casual wear and business blazers hang in the same stand & the sizes are all mixed up. And while you are trying to make sense of all of this, a sales assistant comes up and tries to convince you to purchase perfume @ 50% off. Say, you finally manage to make your way out with the clothes of your choice, but now you are unable to locate the billing counter. Exasperated, you exist without making the purchase.
Customer service is that business practice that never loses relevance. The above example of a physical store can easily apply to a business website. And, this is exactly where a customer service software comes in handy.
Customer Service Software: Your Key to Creating Customers for Life
Smooth customer experience (CX) is a business game-changer. However as you scale up in size, manually addressing all customer service requests can be challenging. For tracking & collating all requests at one place, driving action-packed reports from them and simultaneously optimizing the response rate – you need modern CRM support. To accommodate the expanding scope of customer service, the world's leading cloud CRM company Zendesk has a range of offerings in its ambit. Here are some of the core benefits of plugging in an efficient customer service software like Zendesk:
Super-responsive helpdesk – A prompt resolution of queries is one of the sure-fire ways of garnering customer loyalty. Nearly 47% of all customers consider 24/7 support to be non-negotiable. To address the need, a sound CRM software makes the smart use of digital FAQ libraries, chatbots, and community forums. Even when your customer service team is off the clock, not a single query goes unacknowledged. However, too much automation without human touch can also make for a bad experience. Though customers should be empowered to avail self-service, they should not feel abandoned. The right choice of customer service software is critical here.
Flexible ticket management – Funnel all customer queries, issues, and suggestions in a single place, categorize them in sub-groups, troubleshoot immediately or schedule – a robust cloud CRM support kickstarts an automated workflow for your business and minimizes the room for human errors. A Zendesk implementation plan additionally incorporates macros for easier process automation – freeing up your customer support team to take up tasks that require greater human interaction. It is also quick in assigning a unique reference/ticket number to each query, making tracking and resolving easier both in the short and long runs. Better lead-to-conversion ratio follows suit.
Advanced analytics & custom reports – A good customer service software is often defined by its analytical prowess. It helps you capture trends in the customers' purchase behavior and foster relationships by leveraging data-driven information. Zendesk CRM support encompasses customer analytics to help you interpret how your clients interact with your brand offerings. It further provides insights on how this experience can be improved. The customer service software is best-in-class in offering data visualization using easy point-and-click functions and intuitive dashboarding.
This is what a typical Zendesk dashboard looks like (Zendesk Support).
Cloud-based CRM Support Dashboard – part of Zendesk Implementation Plan | Source: Zendesk
Also, Zendesk APIs are configured around REST which provides a great deal of flexibility in terms of resources and methods.
Third-party integrations – Higher the number of third-party software you can integrate with your core business with, higher the avenues you can cater to. Zendesk makes space for over 100 third party integrations. Salesforce, Google Analytics, and SugarCRM being classic cases in point. This helps you to quickly respond to the evolving market demands and identify what fits your business needs the best.
Customized offerings – When it comes to customer service, personalization is the key. Every end-user likes brand offerings to be tailor-made to their needs – zone, country, industry, age group, etc. Toward this, Zendesk accommodates multi-locale configurations (time-zone & languages) and group rules (auto-redirection according to query), among other key offerings. Such personalization augments product eligibility, compatibility, and eventually up- and cross-selling. So if you want to add a personal touch to your brand, invest in robust CRM support. Having a Zendesk implementation plan is a great start.
World-class branding – Collate all of the above features, put them in one customer service software, and leverage. You are sure to arrive at a smart and reputable brand image that is reflective of your holistic values, mission, and vision. Your web/mobile interface is the first place where your potential customers meet you. It must be distinguished enough to set you apart from your competitors. And, a cutting-edge customer service software will help you achieve that. Zendesk implementation plans have a complete helpdesk customization option (CSS rebranding) in its kit. When utilized optimally, it can be an absolute game-changer.
It's Flexible, It's Easy, It's Zendesk!
The cloud CRM software accommodates all of the above features and beyond. When empowered with Zendesk, not only are your customers happy, your sales, marketing, and customer service teams also communicate better. They work more cohesively toward the business goals. You bulk up on efficiency, and cut down on cost.
Estuate is Zendesk's Master Implementation Partner
From implementation, training, consultancy, optimization, Zendesk apps, and integration, we are Zendesk's most trusted Implementation Solution Provider. 
Our Zendesk implementation plans are customized according to your business needs.
Zendesk Sell
Get a clear vision of your sales pipeline, and keep your team focused on the highest value leads & deals with our Zendesk Sell support. 
Our Zendesk expertise reflects in our consistent KPIs:
Core global system integration partner of Zendesk
Quick and secure migrations from any reporting platform
Out-of-the-box integrations and accelerators
100+ successful Zendesk projects
Consistent CSAT: 97%
Cross-industry expertise
Flexible delivery models
So if you are looking to unlock the next level in customer service, we're right here to help.
What are your thoughts on having a customer service software? Do you think it helps?